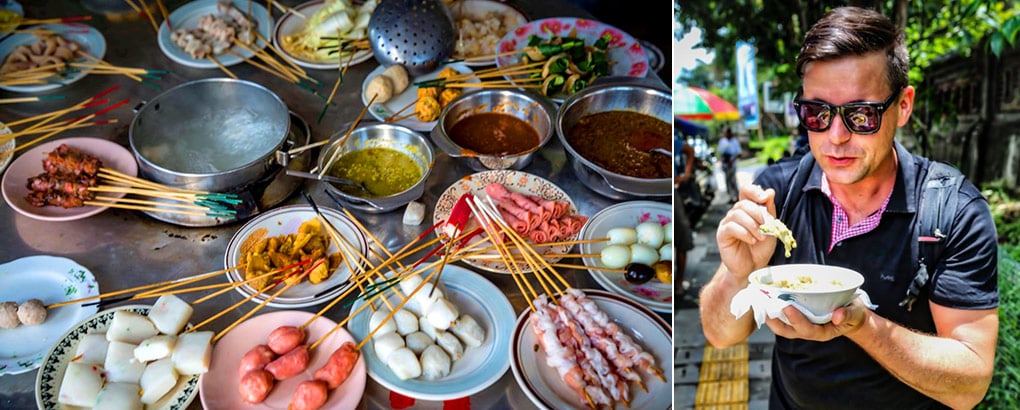 When Chef Jon Ashton landed in multicultural Singapore as part of his 5-week-long food tour of Southeast Asia, he had exactly 36 hours to eat his way through dozens of hawker stalls. "I did the most eating I've ever done in that time," he said. "When you get food that is so bloody tasty, it hits your lips and it's like the best kiss you've ever had in your life. You just want more."
So how did he do it? "I am a clever eater and I wanted to try everything," said the British-born chef of working his way through Singapore's legendary street food sold from stalls that line huge food court-like emporiums. Armed with a notebook and his brother filming Jon's interactions, Jon simply asked at each stand if he could watch them cook and take notes. "I told them I had many other hawker stalls to taste that day and they understood," he said, managing to only consume a few bites of each dish.
Eating was not the only purpose of his trip. As chef contributor to Parade magazine, Crystal Cruises guest chef for the past nine years, and the host of hundreds of live cooking events around the country, Chef Jon wanted to better himself as a chef.
"I want to evolve and grow my portfolio," he said. "I wanted to cook in villages with ingredients I'd never seen. I want to have that integrity in my work. If someone is watching me on television or taking time to read a recipe I've written, I want that person to trust me. Ingredients are often expensive, so if you buy them, I want you to trust that they will work for you," he said.
"One of the most exciting things about that entire trip was seeing the food stalls and meeting the people behind them," said Jon. "Singapore is one of the most expensive cities in the world, and the most famous chefs in the world have restaurants there. But the inexpensive hawker stalls are where the excitement is; the food coming out of them is exceptional. You see the lady who is 90 years old who has probably been at that stall for most of her life."
Always a fan of starting at the source, Jon urges one splurge while visiting the city-state island at the tip of the Malay peninsula: slipping into a seat at the Long Bar at Raffles Singapore Hotel to sip the national cocktail, the Singapore Sling, created right there in 1915. "It's something you have to do, like going to Harry's Bar in Venice," says Jon.
What else shouldn't you miss? Check out Jon's list below, including tips on where to try most dishes.
See Jon in action at his website, and follow him on Twitter and Facebook.