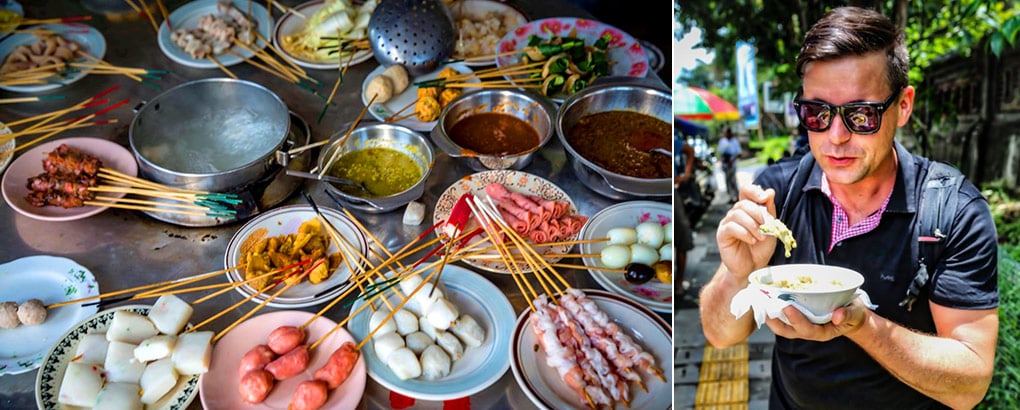 When Chef Jon Ashton landed in multicultural Singapore as part of his 5-week-long food tour of Southeast Asia, he had exactly 36 hours to eat his way through dozens of hawker stalls. "I did the most eating I've ever done in that time," he said. "When you get food that is so bloody tasty, it hits your lips and it's like the best kiss you've ever had in your life. You just want more."
So how did he do it? "I am a clever eater and I wanted to try everything," said the British-born chef of working his way through Singapore's legendary street food sold from stalls that line huge food court-like emporiums. Armed with a notebook and his brother filming Jon's interactions, Jon simply asked at each stand if he could watch them cook and take notes. "I told them I had many other hawker stalls to taste that day and they understood," he said, managing to only consume a few bites of each dish.
Eating was not the only purpose of his trip. As chef contributor to Parade magazine, Crystal Cruises guest chef for the past nine years, and the host of hundreds of live cooking events around the country, Chef Jon wanted to better himself as a chef.
"I want to evolve and grow my portfolio," he said. "I wanted to cook in villages with ingredients I'd never seen. I want to have that integrity in my work. If someone is watching me on television or taking time to read a recipe I've written, I want that person to trust me. Ingredients are often expensive, so if you buy them, I want you to trust that they will work for you," he said.
"One of the most exciting things about that entire trip was seeing the food stalls and meeting the people behind them," said Jon. "Singapore is one of the most expensive cities in the world, and the most famous chefs in the world have restaurants there. But the inexpensive hawker stalls are where the excitement is; the food coming out of them is exceptional. You see the lady who is 90 years old who has probably been at that stall for most of her life."
Always a fan of starting at the source, Jon urges one splurge while visiting the city-state island at the tip of the Malay peninsula: slipping into a seat at the Long Bar at Raffles Singapore Hotel to sip the national cocktail, the Singapore Sling, created right there in 1915. "It's something you have to do, like going to Harry's Bar in Venice," says Jon.
What else shouldn't you miss? Check out Jon's list below, including tips on where to try most dishes.
See Jon in action at his website, and follow him on Twitter and Facebook.
1

Chili crab

As the luxurious ambassador of Singaporean food, chili crab is the national star. Sweet crab is cracked into several pieces before being placed in a deep fryer. In the wok, a dizzying array of chilies, tomatoes, garlic and shallots sizzle over hot flames. Soy sauce, chicken stock and sugar syrup form an aromatic bouquet. Whisked egg and cornstarch slurry thicken the gravy with bands of silky ribbons. The savory marriage of the fleshy, satisfying crab, doused in thick sauce yields the perfect balance of sweet, salty, and spicy. The last bits of sauce are always best soaked up with soft, doughy Chinese rolls.
2

Hainanese chicken rice

Originating in Hainan, a tropical island off China's southern coast, Hainanese chicken rice has become a culinary staple in Malaysian culture. Served simply on a lime green plastic plate, succulent boiled chicken is roughly chopped and delightfully served on top of a heap of the most fragrant rice ever tasted. Each grain had its own identity: fluffy, aromatic, distinctive. Best completed with drizzled soy and chili sauce, the tender, boneless chicken dish is perfectly complemented with a frosty mug of Tiger beer.

TRY IT: Join the long lines at Hong Kong Soya Sauce Chicken Rice and Noodle located in the Chinatown Food Complex. In 2016, this hawker stall became one of two food stalls in Singapore to receive a Michelin star.
3

Pork soup dumplings

Sexy thin-skinned wrappers become small joyful parcels of pork filled with rich broth. Once slightly cooled and placed on a spoon, you can slurp the whole dumpling up in one mouthful.

TRY IT: Ji Ji Wanton Noodle Specialist in Maxwell Food Centre. (Added Jon: "Lovely man, excellent, yes!")
4

Clay pot chicken

Decadent curry packed with chicken wings that add collagen, which emulsifies the fat into the sauce. Pillows of starchy potatoes swim across a burnt orange basin laden with idiosyncratic curry leaves.
5

Laksa (or curry mee)

Laksa is the happy marriage of Malay and Chinese influences. Spicy coconut curry drowned in gorgeous rice noodles.

TRY IT: Famous Sungei Road Trishaw Laksa, on the second floor of the Hong Lim Market & Food Centre.

6

Char kuay teow

Broad rice noodles fried with black soya sauce, fish cake, Chinese sausage and clams. Singapore noodles can go up against the Italian noodle, with a nice bite to them. The wok heat gives them a smoky taste.

TRY IT: Marina South Delicious Food, stall 35, at Maxwell Food Centre.
7

Hokkien prawn mee

Flat egg noodles with a medley of chicken, pork, squid, and prawns.

TRY IT: Lor Mee, stall 178, at Tiong Bahru Market.
8

Chicken satay

What's better than skewered, grilled chicken in a bath of peanut sauce, with a side of cold cumber relish? Delightful.

TRY IT: Multiple stalls at Satay by the Bay put their spin on these tasty skewers.
9

Roti prata & teh tarik

Buttery, flaky flat bread stretched and cooked on a griddle, usually dipped in a rich curry, serves as a wonderful breakfast washed down by a cup of Teh Tarik or "pulled tea." Pulled tea requires great skill as the hot liquid, combined with sweetened condensed milk, is transferred in a sweeping motion from one cup to the other until properly frothy and delicious.
10

Half boiled egg with kaya toast

Breakfast staple with a soft centered yolky egg blanketed with light soy sauce and white pepper powder. Dish is served with toasted bread smeared with sweet coconut jam.

TRY IT: Kaya toast is so popular it's part of the coffee house staple, from Ya Kun—in business since 1944—to the chain Killiney Kopitaim, with roots back to the oldest Hainanese coffee shop in Singapore. In other words, where there's coffee, there's kaya toast.

For your own delicious taste of Singapore, check out our variety of adventures to the city state.