Recently Danielle, a member of Friendly Planet's Sales Team, set off on an adventure to Singapore. Our independent adventures to this amazing destination offer plenty of opportunity to explore at your own pace—so check out some of her favorite experiences before you book your own getaway to the Lion City!
Time and time again, I heard Singapore described as a "sterile city." People who had never visited the Lion City told me to make sure I followed the rules – do not chew gum, do not jay walk, do not, do not. Instead of listening to naysayers, I like to push stereotypes aside when I travel, and to dig deep into the culture, the people, and the new adventures. I departed for my vacation with an open mind, and I came home with a fuller heart and a new-found appreciation for all of the surprises Singapore had to share!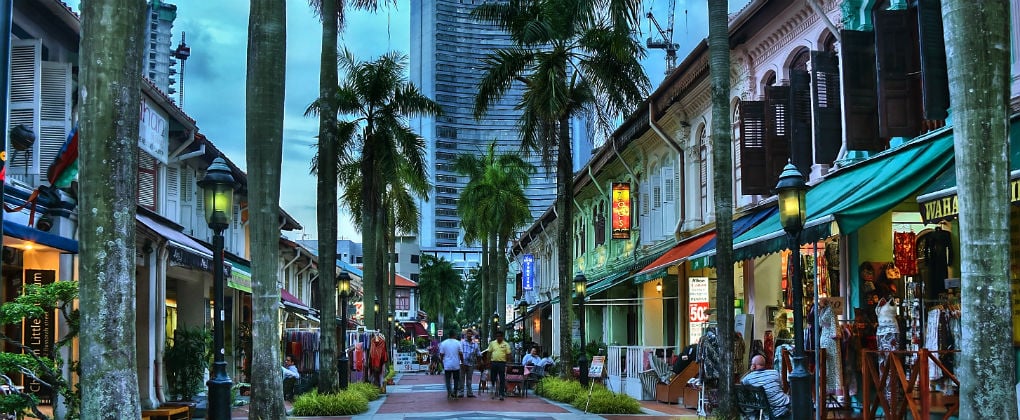 The Many Sounds of Singapore
I believe a city can be measured by the music you hear in it, but I was surprised to learn that the music of Singapore is jazz! On any given night, music lovers can explore Kampong Glam and listen to the sultry singers inside and outside the various bars. If jazz is not your style, this hip neighborhood had everything from oldies to reggae. Kampong Glam is a destination in its own right in Singapore. The streets are lined with colorful art (and tourists lining up to get a selfie!) as well as small boutiques that are a shopper's dream. It's also a great place to grab a bite and watch the world go by! On one of my favorite nights in Kampong Glam, I found myself sitting outside a Turkish restaurant, people-watching and listening to the chatter of a multitude of languages around me as a soulful singer played a beautiful background soundtrack.