Recently Danielle, a member of Friendly Planet's Sales Team, set off on an adventure to Singapore. Our independent adventures to this amazing destination offer plenty of opportunity to explore at your own pace—so check out some of her favorite experiences before you book your own getaway to the Lion City!
Time and time again, I heard Singapore described as a "sterile city." People who had never visited the Lion City told me to make sure I followed the rules – do not chew gum, do not jay walk, do not, do not. Instead of listening to naysayers, I like to push stereotypes aside when I travel, and to dig deep into the culture, the people, and the new adventures. I departed for my vacation with an open mind, and I came home with a fuller heart and a new-found appreciation for all of the surprises Singapore had to share!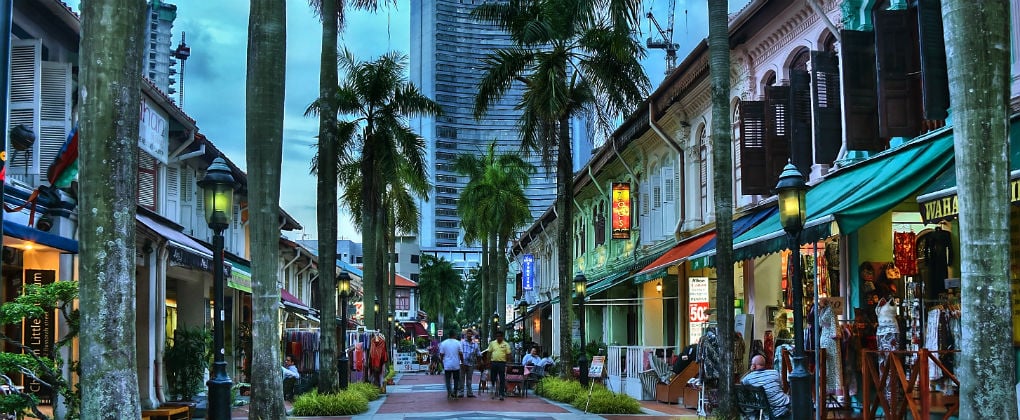 The Many Sounds of Singapore
I believe a city can be measured by the music you hear in it, but I was surprised to learn that the music of Singapore is jazz! On any given night, music lovers can explore Kampong Glam and listen to the sultry singers inside and outside the various bars. If jazz is not your style, this hip neighborhood had everything from oldies to reggae. Kampong Glam is a destination in its own right in Singapore. The streets are lined with colorful art (and tourists lining up to get a selfie!) as well as small boutiques that are a shopper's dream. It's also a great place to grab a bite and watch the world go by! On one of my favorite nights in Kampong Glam, I found myself sitting outside a Turkish restaurant, people-watching and listening to the chatter of a multitude of languages around me as a soulful singer played a beautiful background soundtrack.
---
The Melting Pot of Meals
Singapore is famous for its food, and I was told over and over how excellent the assortment of Asian dishes would be. I was surprised, however, at just how diverse the culinary options were! Because of its geography, Singapore attracts a multitude of nationalities, and of course, their specialty dishes! In addition to sampling the local Singaporean specialties, I ate Lebanese, Moroccan, Brazilian, Malaysian and even English pub food. I met servers and restaurant owners from around the world who had come to Singapore to add their fares to the foodie scene. There is a perfect meal in Singapore for everyone!
---
The Ancient Mythology
One of my favorite attractions in Singapore was perhaps one of the quirkiest and least expected! Haw Par Villa is devoted to connecting Singaporeans to the ancient Chinese morality and mythology they may have drifted away from over time. Visitors are guided through the Ten Courts of Hell, watching amusement park-style figures warn of the (sometimes severe) punishments awaiting those who sin, and are finally guided to freedom, rebirth and reincarnation. It is best described as an odd but unique attraction—fascinating and worth visiting if you are interested in Chinese folklore or cultural morality. Though it's not for the faint of heart!
---
A Painful Past
When I travel, I like to learn what makes a place tick. It is a difficult journey to become a thriving metropolis, and Singapore has had its fair share of challenges. I was surprised to learn that this tiny country (only half the size of Los Angeles!) played a major part in World War Two. The Changi Museum is a former prisoner of war camp and is devoted to telling the story of the Japanese occupation of Singapore. The experience was emotional and hard to process at times, but important to understanding the city just a little more.
---
The Grittiness (and Beauty of) Little India
The common Singapore stereotypes focus on the cleanliness and orderliness of the city, but Little India stands out starkly from the surrounding neighborhoods. Though it is chaotic, loud, fast-paced and crowded, the vibrant atmosphere instantly transports you to Delhi! The scent of spices in the air alone is enough to entice you into the bustling alleys and crowded restaurants. Little India was a destination in its own right and like the rest of Singapore—full of surprises!
---
Inspired? From modern marvels, incredible sky gardens and sizzling street foods to the diverse people and unexpected cultural moments, Singapore is an incredible destination that you can't skip!
#FriendlyFiles follows Friendly Planet's adventurous staff as they travel the world. It is crucial that our team experiences first-hand the sites, hotels, food and transportation so that we know exactly how the trip will feel for our travelers—and to help us as we strive to provide experiences, not sightseeing!