As travel professionals, we get this question all the time, "Where's the best place you've ever been?" So we asked one of our amazing Reservation Agents Liz to weigh in! See below for some of her personal travel favorites…. so far! 

5

 Thailand (Wat Rong Khun AKA White Temple)

Bangkok is of course the favorite city of most visitors, but I also loved northern Thailand, especially Chiang Mai and Chiang Rai. Among the tiered tea fields and charming villages, you'll encounter treasures around every corner. One of my favorite memories was of Wat Rong Khun, AKA White Temple, en route to Chiang Mai. After seeing so many temples in Asia, this one stands out with its modern and incredibly detailed design. In 1996 the artist Chalermchai Kositpipat, using his own money, chose to completely rebuild this temple himself. Over a million dollars later, it's still a work in progress, and is hoped to be completed by 2070. Aside from traditional Buddhist imagery, you'll see movie references like the monster from Predator rising from the earth. Eliciting both smiles and serious thoughts, this stop on the tour was well appreciated.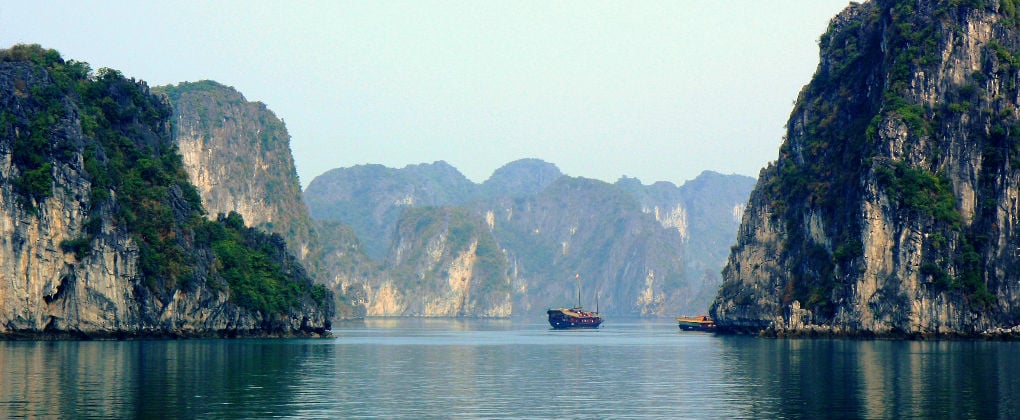 4

 Vietnam (Halong Bay)

Thousands of speeding motor scooters leaving the growl of tiny engines in their wake criss-cross every tourist area in Vietnam, except for one place, Halong Bay. Whether you get a chance to overnight on a junk boat, or just take a day trip, you cannot miss this UNESCO World Heritage Site. At first when you leave the dock, you quickly approach the looming limestone karsts on the horizon. Then, as you get closer, the boat slows down, and you really get to take in the sheer beauty and serenity of the region. When I think of times I was truly, blissfully happy and content, I think of my afternoon on Halong Bay.



3

 Cuba (Christopher Columbus Cemetery)

Rum, cigars and Hemingway…this is what you think of when you think of Cuba. For me, the Christopher Columbus cemetery was one of the most interesting places I visited on the "Forbidden Island". It's a bit unusual, but besides seeing beautiful sculptures, you learn about the people of Cuba. One of the most memorable points occurred as we found the grave of Ibrahim Ferrer, most notably one of the members of the Buena Vista Social Club. Myself, my husband, and his grandparents all looked on as a man sweeping the graves appeared. Our grandfather, from Puerto Rico, spoke to him and they bonded over music instantly. Before we knew it, our unexpected host was singing, peacefully and in honor of a great artist. I'll never forget that spring afternoon, where among the tombs, the joy of song came through.



2

 Japan (Sushi Kyotatsu – in Tokyo Narita Airport)

We should start with the confession that I love all things Japanese. I've been obsessed with the food, culture, language and fashion since I was a child. My first encounter was a measly four hour layover in Tokyo Narita airport, but I made the most of it. Upon touching down, I made a bee line for the newsstand and purchased a copy of Japanese Vogue. I stock piled cosmetics at the gift shops, and then with bags full of goodies, walked down the long hall to Sushi Kyotatsu. Sushi in an airport seems like a recipe for disaster, but when I say this experience is still one of my favorite food memories, believe me. I sat at the bar and was greeted by enthusiastic chefs behind the counter. All of them were pros, working quickly producing plates of sushi that were works of art. I ordered sea urchin and fatty tuna, and a giant Sapporo beer. The meal was amazing, and affordable to boot! Years later, when I finally got to see Japan for real, my favorite part was still coming back to Kyotatsu and having sashimi and a Sapporo.



1

 Myanmar (Shwedagon Pagoda)

Myanmar, the land of ten thousand temples…and I feel like I've seen almost all of them! But seriously, there is one that holds great significance for me: the towering Shwedagon Pagoda in Yangon. As we ended our time in Yangon, we visited this Buddhist holy site at sunset. I had been feeling ill all day, but the sun began to dip, the air cooled, and the romance of a Southeast Asia dusk started to lift my spirits. Like all of the other temples we visited, I performed the appropriate rituals according to my birth day and time. I walked clockwise around the base of the 76 carat diamond topped pagoda, which supposedly holds relics of 4 previous incarnations of Buddha. I meditated as I slowly poured water on the tusked elephant icon, as I was born on a Wednesday morning. I was praying for what I prayed for the whole trip, a baby girl. After I toured and took photos, I sat down with the guide and we waited for the others. He asked why I was ill, and I confessed the entire group thinks I might be pregnant. I teared up for the first time, as I finally believed them. When our guide left us the next day, I was heading for security and he yelled, "Congratulations!". He knew. My daughter Emily is three now, and I'll never forget the first time someone congratulated me for her birth.

Now it's your turn! Let us know in the comments: "Where's the best place you've ever been?"