Due to its physical geography and its long history of influence from conquered and conquering societies, Portugal has developed its own unique art, architecture, food and culture that can't be found anywhere else in Europe. From its fortified wines to its fortified cities, its melancholic music to its traditional tile work, it's no wonder American tourism to Portugal has increased 17% over the past year. The country is trending in travel in 2017; and here are five reasons why!
1. Feasts of food & wine
Port Wine. Perhaps Portugal's most potent contribution to the world is its port wine, named for the city where the wine is made, Porto. In fact, a "port" cannot be called a "port" unless the grapes were grown in Portugal's Douro Valley and the juice was stored and aged in one of Porto's wine lodges. Locally referred to as port caves, the most tourist-friendly and accessible concentration of lodges in Porto are located along the river in the Vila Nova da Gaia part of town. Just look for the huge 50s-era signs with English names on them proclaiming the past and present British owners of some of these port-producing lodges. You can do a tasting, and if you're lucky, even tour the "caves" carved underground where the wine is stored in wooden barrels.
Seafood. Given the lengthy coastline of Portugal and its long seafaring history, it's no wonder seafood has a special place in the local cuisine. In fact, this small country consumes more fish per capita than any other country in Europe! While more traditional fare like tuna, octopus and shellfish are available, the Portuguese peixe-of-choice is Bacalhau (dried salt cod). Here, a fisher-woman in Nazaré dries and salts her catch in the traditional way–drenching it with sunshine. Bacalhau dishes are immensely popular in Portugal, and there are said to more than 1,000 recipes that feature it, so on your visit, you never have to eat the same dish twice!
Egg Tarts. After dining on Bacalhau washed down with Port, a fitting finale would be a Portuguese egg tart. Sound familiar? Due to Portugal's imperial seafaring history, a version of the egg tart can be found in the cuisine of Brazil, China, Hong Kong, Macau and other Asian countries as well. But in Portugal, you can try one made from the original recipe.
2. Music & Art
Fado Music. On a night out, you're sure to encounter the melancholic and introspective soundtrack of strings that evokes the ruin and romance of Portugal's past – Fado music. This soulful style of song falls into two categories: a sad serenade of surrendering to life's hardships often performed for diners in the cafes and restaurants of Lisbon, or a more hopeful melody of embracing life's tribulations influenced by the academic traditions of the University of Coimbra. In 2011, Fado music was added to the UNESCO Intangible Cultural Heritage List, and on our tour, you're likely to hear both styles.
Elaborate Tilework. Dating back to the 13th Century, azulejo is a form of intricately glazed ceramic art that is a common sight in Portugal. With its roots in the Moors' conquest of what is now Portugal and Spain, the word azulejo is derived from the Arabic word az-zulayj, which roughly translates to "polished stone". Becoming a major part of the architecture and art in Portugal around the 15th Century, these works often feature major historical and cultural stories from throughout the country's history. The murals are applied to the interior or exterior of a variety of buildings including schools, churches, palaces, homes and more recently bars, train stations, and more. These tiles also make great souvenirs!
3. Incredible Architecture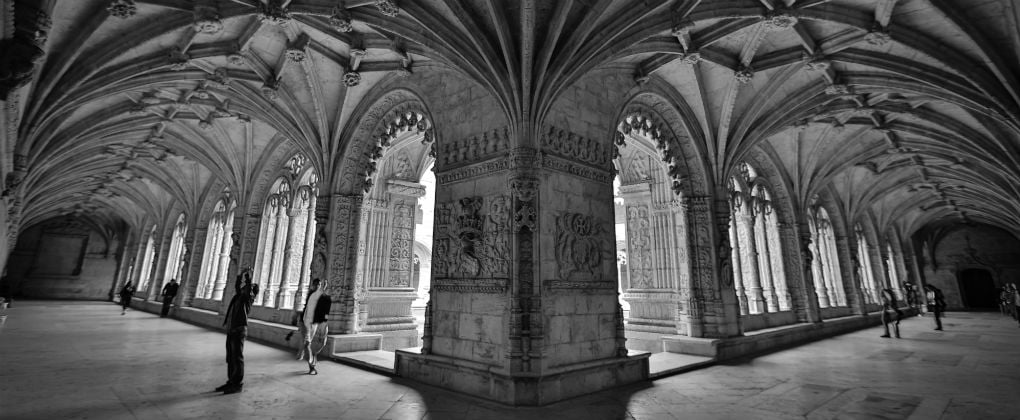 Lisbon. A myriad of iconic and historic architectural periods, from Romanesque and Gothic to Baroque and Neoclassical, are seen reflected in the buildings that line the narrow streets of Portugal's capital city. A casual stroll through Lisbon enchants with a charming urban vibe, with everything from restored medieval facades and impressive Art Nouveau buildings to mosaic-covered sidewalks and modern shops and houses serving as an eclectic backdrop. But there's one building in particular that stands out from the crowd: Jerónimos Monastery. Designated a UNESCO World Heritage Site in 1963, the secularized former monastery of the Order of Saint Jerome dating from the late 1500s is one of the most notable examples of Portuguese manueline style of architecture. The building exhibits an eclectic mix of Gothic, early Renaissance, and international elements.  Some of the interior columns soar 82 feet into the air and are decorated with nautical motifs, fantastical creatures, and zodiac symbols. You'll also find elaborate royal tombs held up by massive elephants, and the tomb of Vasco de Gama, the renowned Portuguese explorer.
Pena National Palace.  A UNESCO World Heritage Site and one of the most famous examples of 19th Century Romanticism in the world, The Pena Palace (Palácio da Pena in Portuguese) started its life as a humble monastery. Although the Great Lisbon Earthquake of 1755 reduced it to ruins, King Ferdinand II fell in love with its unique architecture and the surrounding land's natural beauty. In 1838 he acquired the property and began the long process of restoring it to its current glory as a summer home for Portuguese royalty.
Conimbriga Ruins. Chock-full of ancient ruins including a forum, basilica, shops, baths, tile mosaics and more, the ancient city of Conimbriga is the most well-preserved Roman city in the country and a must-see site for history lovers! First inhabited by Celts as early as the 9th century BC, it was later conquered by the Romans in the 1st century AD. Impressive structures like a nearly 5,000 ft city wall and the House of the Fountains have been meticulously excavated, and a museum has been built on the site that houses items found by archaeologists including coins, ceramic decorations, tools for surgery, utensils and more!
4. Stunning Landscapes

Douro River Valley. Lined with stepped terrace vineyards sewn together by a golden river, the Douro River Valley is quite possibly Portugal's most iconic landscape. When the sun shines down on this peaceful panorama, it seems to glow bright shades of gold and yellow, giving the river and valley its name (Douro = Of gold).  Quaint villages with ancient churches dot the valley and some of the world's most picturesque vineyards can be found here. You can take a scenic drive, or float, through this UNESCO World Heritage Site and stop for wine tasting and beautiful views.
Aveiro's Canals. Located on the sea, Aviero is a perfect example of a traditional Portuguese town — warm and welcoming with great food, relaxed pace, and colorful views! From the picturesque canals lit up at night and tile-covered homes to art nouveau architecture and seafood that can't be beat, Aviero is quickly transforming from "hidden gem" to "must see" among tourists visiting the country. Stroll through the cobblestone streets, grab a bite to eat, or board a colorful moliceiro (traditional gondola-style boat) and cruise the canals.
5. Deepening Your Faith
Shrine of Fatima. A major site of pilgrimage for Catholics and one of the main Marion Shrines throughout the world, the Shrine of Fatima is considered the religious epicenter of Portugal. On Oct 13, 1917 an apparition of Mary is said to have appeared to three little shepherds, Lucia de Jesus, Franciso Marto and Jacincta Marto, saying, "I want to tell you that a chapel is to be built here in my honor. I am the Lady of the Rosary." And in 1919 a little chapel was built. Since then, the property has expanded with numerous church buildings and shrines to accommodate the thousands of visitors that come from across the globe to pay homage to the mother of their faith.
Want to discover your own reasons to visit Portugal? Check out our newest small group tour, Best of Portugal >>