Situated at the crossroads of Europe and Asia, Turkey has enchanted travelers for centuries. And for good reason! Stunning sun-soaked beaches dotted with quaint seaside towns line the coast. Bustling cities like Istanbul and Ankara charm visitors with incredible food, fascinating cultural experiences, and covered markets full of handwoven rugs, intricately painted ceramics and brass samovars. And with more than a dozen UNESCO World Heritage sites, history comes alive across the breathtaking landscape as ancient cities and ruins are found at every turn.
But, where do you start? We've got you covered. Here are 7 things you cannot skip when you travel to this incredible destination.
1

Standing face-to-face with ancient history

Turkey's rich history makes it a key player in the story that is human civilization. Ancient cities and landmarks that even a cursory history lesson would include are found throughout the country: Constantinople, Troy, Midas, Ephesus, Antioch, Mount Ararat and more. Of all the archaeological sites in Turkey, Ephesus (Efes in Turkish) is the most extensive. Located just inland from the Aegean coast, this prominent ancient capital was founded more than 4,000 years ago by Greeks and is today a UNESCO World Heritage Site. Here, don't miss the Temple of Artemis (one of the Seven Wonders of the Ancient World), the Library of Celsus, Temple of Hadrian, and the Great Theater. The site is also the town where St. Paul and St. John lived during the first century, and near the House of the Virgin Mary, where Mary is said to have spent her last years living near a grove of olive trees.
2

Marveling at architectural wonders

Though their beginnings were humble—the Turks started their history as central Asian nomads—their early homes of domed-tents (along with centuries of conquering and being conquered) would impact the country's architecture through to modern day. During the early Ottoman period (1299–1453 AD), Turkish architecture reached its height as influences of Byzantine and Arab styles blended with more traditional styles to create a new and flourishing tradition. You'll want to get a glimpse of a few quintessentially Turkish structures found throughout the country. Visit the Sultanahmet Mosque in Istanbul, a popular site for tourists, which was constructed between 1609 and 1616 and is a functioning mosque today. People flock to see the hand-painted blue tiles, impressive minarets and domes and the more than 200 stained glass windows. Nearby, the Hagia Sophia is a masterpiece of byzantine design featuring a massive dome. Originally built by Justinian I as an Orthodox basilica (537–543 AD), it was used later as a mosque, and finally became a museum in 1935.
3

Eating like the Turkish

From quick bites to elaborate dinners, the Turks love to eat! For a snack or lunch out and about, stop by one of the many vendors serving Döner kebab, made of meat cooked on a vertical rotisserie. Dolma (stuffed vegetables, commonly eggplant) and sarma (stuffed grape or cabbage leaves) are common dishes at a Turkish table, and combined with other mezzes (appetizers), they make a filling meal! Be sure to ask your guide what the regional specialties as you travel about the country so you can sample them. Centuries of passing empires have left a lasting influence on the culinary and agricultural traditions across Turkey giving each place a flavor of its own. Follow your meal with a traditional Turkish dessert: Turkish delight (called lokum by the locals) or baklava (layers of flaky pastry, honey, and nuts—usually pistachio). More adventurous eaters might try tavuk göğsü (sweet chicken breast pudding) which was one of the most famous delicacies served to Ottoman sultans in Topkapi Palace and is considered one of Turkey's signature dishes.
4

Tasting the art of Turkish coffee

Served from a special pot called a cezve and traditionally cooked over a fire, Turkish coffee is rich in flavor and steeped in tradition. Since its introduction to the region nearly 500 years ago, Turkish coffee (Türk kahvesi) has become an integral part of the culture. Even today, a bride-to-be is challenged to make the very best cup of coffee she can for her future in-laws when they visit her parents' home to formally request her hand for their son. Another commonly practiced tradition is fal or fortune-telling, which is done by reading the grounds left behind in your finished cup. The importance of coffee in Turkish culture is so prevalent that the word for coffee (kahvesi) influenced the modern words for breakfast (kahvati, literally "before coffee") and even the color brown (kahverengi, literal meaning "the color of coffee")! Enjoy a cup after your supper paired with baklava, lokum, or chocolates and fruit.
5

Floating above Fairy Chimneys

In Turkey's western region, Cappadocia is the land of fairy chimneys. Millions of years in the making, these towering rock formations resulted from violent volcanic eruptions that showered the region with ash which hardened over 2 million years. Even being in the presence of this surreal landscape is a treat and should be on everybody's Turkey to-do list. But even better than walking among them is floating silently above. Because of the landscape and favorable flying conditions, Cappadocia is one of the most popular Hot Air Ballooning sites in the world. Take the tour at sunrise, and watch the daybreak in spectacular fashion.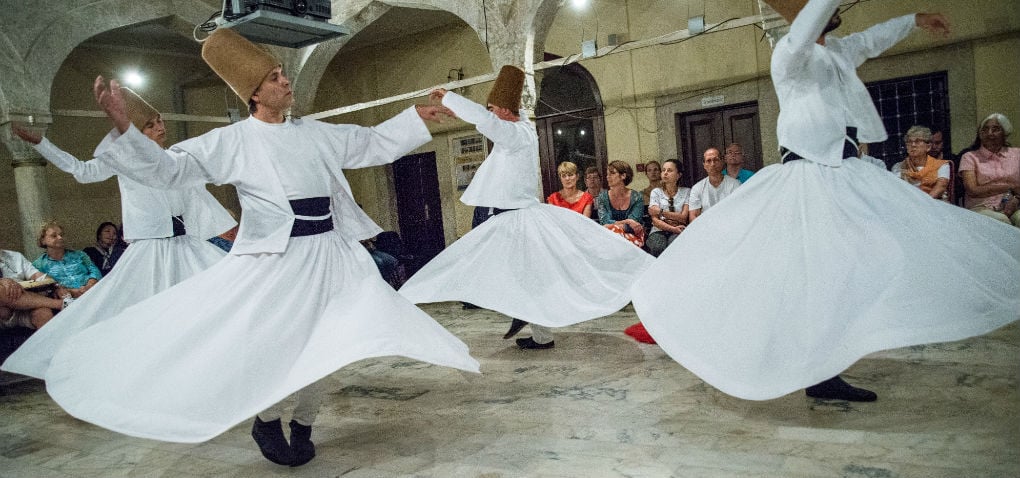 6

Watching the Whirling Dervishes

In the 13th century Rumi, a Sufi Muslim mystic and poet, founded the Mevlana or "Dervish" order in Turkey. Because of their iconic spinning form of dhikr or "remembrance of God" they are also known as the Whirling Dervish. This form of prayerful meditation is part of a formal Sema Ceremony and is considered one of the world's most recognizable and lasting formal expressions of spirituality. So lasting in fact that in 2008, UNESCO inscribed this cultural experience on the Representative List of the Intangible Cultural Heritage of Humanity. Dive deeper in to the spiritual-side of the Dervish at the Mevlana Museum in Konya or a watch a traditional performance hosted at many locations across the country.
7

Sleeping in a cave (yes, really!)

The caves of Cappadocia and nearby towns and villages hold an ancient surprise. The soft rocks that formed these ancient geological structures were easily carved out by the region's early inhabitants to create a variety of fascinating underground dwellings including churches, houses, schools, stables, kitchens and more. Some of the world's oldest Christian sanctuaries are here among the jagged mountains and towering alien-like landscape, and many feature Byzantine frescoes dating back to the 3rd or 4th century BC! Some of the underground cave cities in the region could house thousands of merchants, families, monks and more. Step back in time by wandering through the ancient Churches of Göreme, a UNESCO World Heritage site. And after a busy day of exploring, try kicking back and relaxing in one of the many cave hotels!

We couldn't possibly detail all of the amazing experiences you could have in Turkey—there's so much to do and see! So start with these 7 suggestions but don't stop there. This is an incredible destination that won't disappoint, and many of these experiences (and more!) are included on our 2018 Best of Turkey Package!