Recently Katie, Friendly Planet's Cuba Program Coordinator, traveled to one of our hottest destinations: Havana, Cuba! Check out her top five favorite moments included on our Authentic Havana tour!
1

Muraleando

You can't miss the building of Muraleando; its mural/mosaic artwork stretches out into the streets, extending its impact to anyone who passes by! Muraleando, literally meaning 'mural-making', was started by local artists Manuel Diaz Baldrich and Ernesto Quirch Paz with the intention of giving at-risk youth motivation to improve themselves and their community. Their workshop, originally an abandoned and rusty water tower, has become a beautiful public space through the collaborative creativity!

Today, the cultural project supports the community through art, music and dance. Young neighborhood students are encouraged to bring in old metal materials to recycle into new art creations. Professional artists work with the young artists on individual works and murals, and even have a space to sell their striking work to visitors. We started outside, admiring the vibrant colors they are adding to the neighborhood. You can see faces, animals, cityscapes, and abstract works. When we went inside, we were greeted by a cool fruit drink, lively music and our dance instructors. It didn't take long for us reluctant travelers to get up and start dancing. The energy and heart they bring to their community is contagious!
2

Habana 61

We nestled into the back of a quaint paladar, or privately owned restaurant. While there are other paladares with expansive rooms and open windows to the streets, the food at Habana 61 matched the atmosphere—comforting and authentic. Immediately we were all handed a chilled mojito made with local rum, which was certainly welcome after a hot morning exploring Old Havana. There were various meal options including fish, chicken and ropa vieja (braised, shredded beef). The fish, undoubtedly caught that morning, was seasoned and cooked to perfection. The trifecta of fish, rice and seasoned black beans is a perfectly authentic Cuban meal. Then there were two options for dessert and I went with my instinct: half a guava served with the center scooped out and replaced with a type of whipped cheese. Savory and sweet, and a fabulous way to end a fabulous meal.
3

Walking tour of Old Havana/Booksellers

A canopy of trees line the square and shade the Old Booksellers Market, providing the perfect opportunity to browse aged books away from the glare of the sun. There were racks of literary mementos, in Spanish, in English, in Russian. In a sense, these books are the perfect metaphor for contemporary Cuba: an oft-neglected volume in world history that Americans are just starting to pull off the shelf, to blow away the dust, and discover the beauty and magic scribed in its pages. People sat greeting one another, women in traditional Cuban dress smoking cigars, hawkers selling their antique goods, political prints, clocks and watches, second-hand car parts—all set back in time, as Havana itself often feels. I started to feel the cultural weight of this relaxed, yet lively section of Old Havana, as I dove deeper into this incredible country.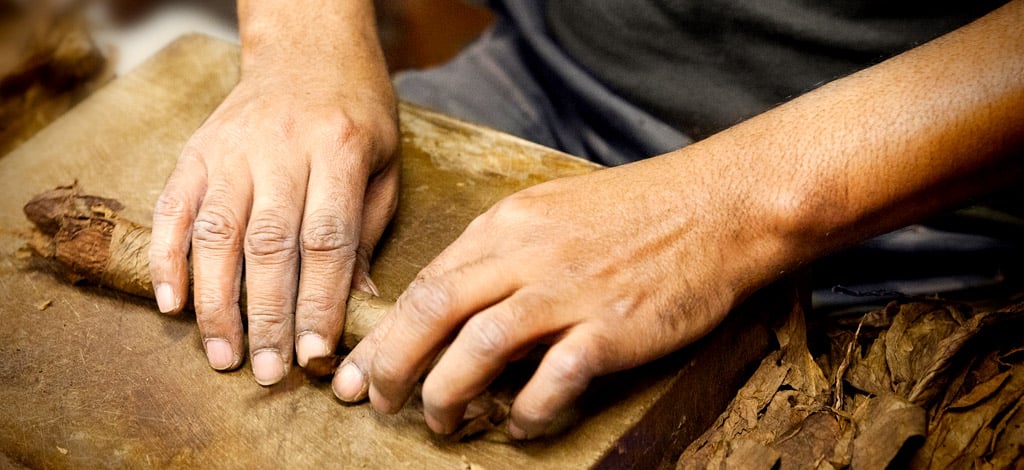 4

Cigar Factory

A faint smell of sweet smoke and earth waft through the Cigar Factory in Havana. We were greeted by an enthusiastic and humorous local guide, and led upstairs to the third floor to watch the workers rolling cigars. We learned about the origins of the best known cigar names and the different leaf levels on the tobacco plant. We were escorted through the entire process of production, from dried leaves, to rolling then compacting the cigars, to finished and boxed product ready to be tasted. Even as a non-smoker, I was enthralled at the process and dedication of creating a product that is an essential part of Cuban history—and a huge export.
5

Dance Company

Wearing all black and in tap shoes, the "student" dancers welcomed us in their dance room for rehearsal. There is an assortment of drums, colorful chairs and other instruments to fulfill this incredible collaboration of Afro Cuban beats. The combination of drumming and dancing injects a vitality into the room; stomping feet, swaying hips, banging drumsticks on hand stretched hides. It's interesting, but this well-choreographed expression of Cuban life reminded me of the daily tempo of the Havana streets: the slap of a wooden stick hitting a ball as boys play baseball, the clank of wrenches as a mechanic fixes a 50's era car, the giggling of two young lovers on the sea wall, the tango of tourists and buskers and vehicles and commuters all dipping and weaving seamlessly to the beat of their own stories. All of us were in awe and it was a privilege to watch them perform.
---
#FriendlyFiles follows Friendly Planet's adventurous staff as they travel the world. It is crucial that our team experiences first-hand the sites, hotels, food and transportation so that we know exactly how the trip will feel for our travelers—and to help us as we strive to provide experiences, not sightseeing!