CHECK IT OUT: Travelers often ask "when is the best time to visit Japan?" Everyone knows about the high and low season… but the truth is: Japan is amazing 365 days a year! From blossoms to snowfall (and every season in between!) there's something unique to experience all year long.
Like a beautiful bonsai tree, we've spent years cultivating our classic Japan packages to give you the very best this ancient country has to offer—no matter what time of year you visit! Learn more about our packages.
Sakura as far as the eye can see
Unfurl your picnic blanket on the soft grass beneath an old cherry tree and look up. Shades of pink, from champagne to flamingo, pop against the cloudless blue sky.  Springtime in Japan attracts hundreds of thousands of tourists, each flocking to witness one of the country's most iconic panoramas. Sakura (cherry blossoms) bloom from mid- to late-March through mid-April making this time of year the most popular for visitors. Two of the most popular hanami (cherry blossom viewing) spots are Shinjuku Gyoen Garden (Tokyo) and the Philosopher's Walk (Kyoto). Both enchanting, these natural parks provide ample space to relax and take in the beauty, as well as numerous photo opp locations! Don't forget your camera! Locals believe these delicate blossoms represent the breathtaking beauty yet temporary nature of our lives, adding a layer of poignant symbolism when they float from the branches after an (all too short) time.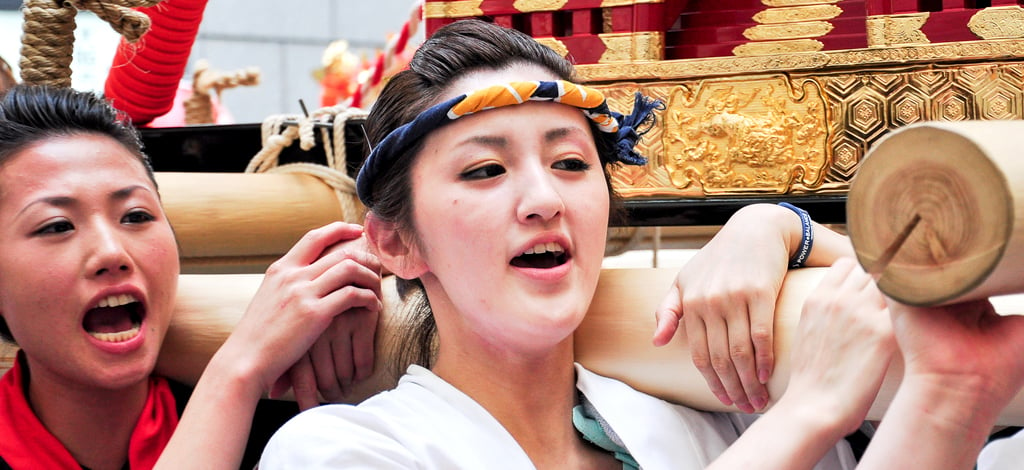 Gather together and light the night sky
If there is a tradition that the Japanese enjoy more than festivals in the summer—you'd never know! With more than 300,000 traditional festivals or matsuri each year, the fun literally parades through the streets. In the summertime, many culminate in dramatic fireworks displays that delight thousands of spectators.  Kyoto's Gion Festival is one of Japan's most famous festivals—spanning the entire month of July. On evenings throughout the month the streets are packed with food carts selling festival-goer favorites like yakitori (barbequed chicken skewers), takoyaki (fried dough filled with octopus), yakisoba (fried buckwheat noodles), as well as eye-catching, colorful sweets including wataame (cotton candy), karumeyaki (grilled caramel), kakigori (shaved ice), and more! Don a cotton yukata (summer kimino), grab a paper fan, and enjoy, eat, and dance your way through the dog days of summer!
In the coastal city of Osaka, thousands of people gather for Tenjin Matsuri. This thrilling summer festival is dedicated to the patron god of learning and art. The two day celebration includes kagura (traditional music), bunraku (theatrical puppet shows), and a parade of more than 3,000 people dressed in the traditional imperial-court style of the 8th–12th centuries! Tenjin Matsuri culminates with an impressive display featuring more than 4,000 fireworks lighting the night sky as the Funatogyo (sacred boat procession) make its way down the Okawa River below.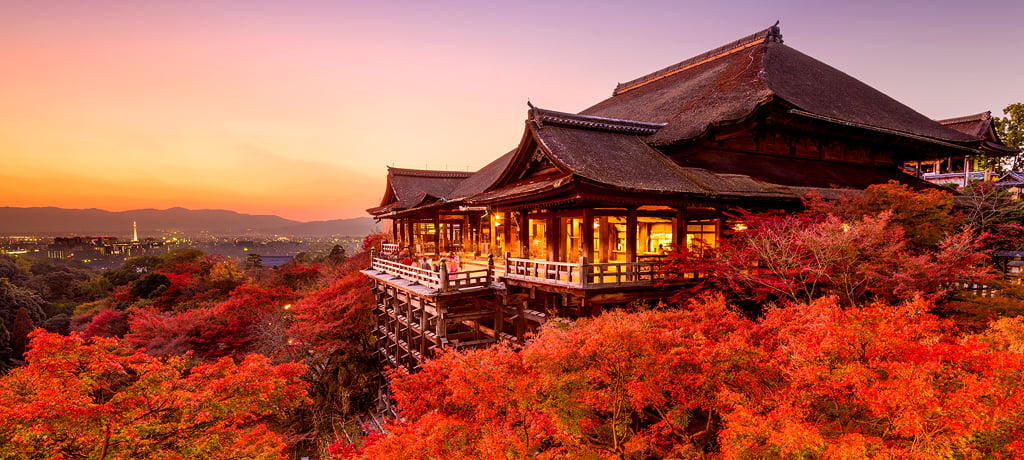 Momijigari or "hunting the red leaves"
Fiery color explodes across the landscape as the lazy summer comes to an end and autumn begins.  Starting in the northern regions and slowly creeping south, koyo, the traditional Japanese word for autumn foliage, paints the landscape with vibrant colors. Leaf-peeping (called momijigari) is an ancient tradition that began with nobility in the Heian period (794-1185) before becoming popular with the commoners during the Edo period (1600-1868). Today, momijigari brings together families and visitors as they explore Japan's diverse natural treasures from country roads and river valleys to mountain slopes and temple grounds in search of the most beautiful and dramatic displays. From bright yellow ginkgo groves to lush red maple valleys, Showa Memorial Park (Tokyo), Tofuku-ji Temple (Kyoto), and Mino Falls (Osaka) provide an unparalleled peek at the season's exquisite foliage.
And for those who can't get out and about to "hunt the red leaves," try fried maple leaf tempura! It's all the rage in trendy restaurants across Japan, with or without the maple syrup.
Sake, snowfall, seafood
When the leaves finally fall and the chilly cold of a new season sets in, the crowds disappear making winter an ideal time for travel to Japan—especially for those who long to wander the country's most iconic locations when they are peacefully less crowded! Enjoy a glass of hot sake as the snow falls and dramatically hushes the landscape from bustling cities to country roads.
Culinary travelers should hop from pub to pub (called izakaya in Japanese) indulging in some of the best seafood that Japan has to offer, deliciously in season during the winter months. Flavorful, fatty fishes like codfish, tuna, and mackerel pair with daikon radishes and lotus roots to create rich dishes that warm the body and soul.  Gather around a Japanese hotpot (nabe) and share a meal with friends old and new. For the adventurous eaters, experience the variety of hanpen (fluffy fishcakes), mochi (rice cakes), and konnyaku (yam cake) found in another local favorite: oden.