I've traveled to many places around the world and have had incredible cultural experiences, but one place that always ranks in my top five is Cuba. I've made several trips to Cuba since I first started going in 2011, and I find it remarkable in so many ways in spite of, and because of, the U.S. embargo, which has essentially frozen its ability to do business with most parts of the world. So Cuba has adapted, beautifully, in ways that you'd never expect. Here's what I've observed:
1
Cubans see the glass half full.
Cuba is the place that most exemplifies the "glass half full" mentality. Cuban people simply don't understand the concept of "I can't do it." They've had to make do with such limited resources that this "making do" has fostered a spirit of innovation.
For example, you never see trash on the ground when you walk down the street in Cuba. You may see broken bricks, rubble, dust, but you never see scraps of paper. Paper is right up there with GOLD. Artists who use paper often have to create their own, that's how precious the material is. Jeremy Woodhouse, a noted photographer on tour with us in Cuba, once saw a man welding a fire extinguisher next to a broken down mess of a car (of which there are many in Cuba). When asked what he was doing, the man explained he was building a taxi and he needed a muffler!
I also saw such ingenuity in gardening. People began cultivating small strips of earth between apartment blocks during the "special period" after the fall of the Soviet Union and the end of aid massive aid to Cuba. And since they didn't have (and couldn't afford) fertilizer, they learned how to garden organically. These gardens have produced enough fruits and vegetables to supply small produce markets, where locals can get good (and inexpensive) organic food. These gardens got people through some very difficult times.
But that's what life is like in Cuba. Creativity is everything.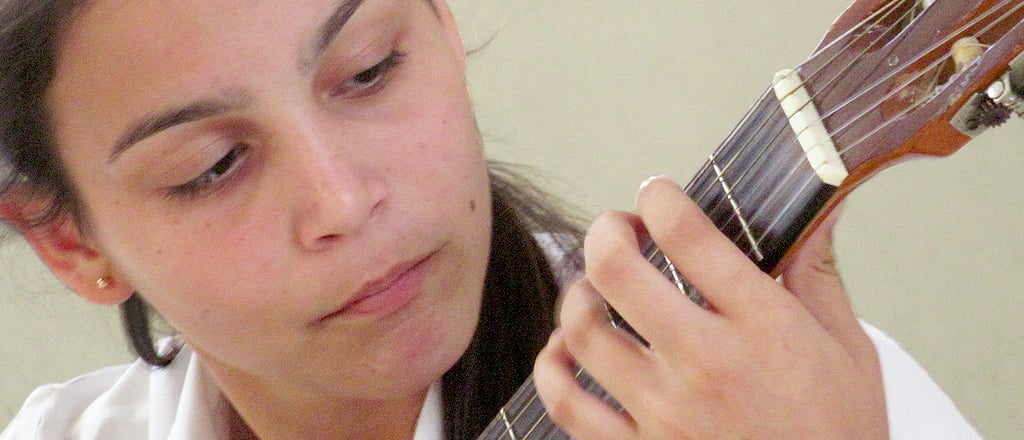 2
Cuba nurtures talent and culture.
Cuban kids don't have PlayStations, iPads and smartphones. They often have to make their own soccer balls and baseball bats, and it's rare to see bicycles. They really have to make do with almost nothing.
But Cuban families do give their kids plenty of cultural activity. Most children learn to play an instrument, attend art classes, learn classical, salsa, flamenco or other dance forms, play sports, take language classes, or participate in a neighborhood association.
One of the things I love to do in Cuba is visit music schools where you get to see students performing. Having so much exposure to culture really encourages and nurtures talent among the children, and the kids take it very seriously. On one of my visits, I sat in on a dance class at the Lizt Alfonso dance school. The dancing style merges classical ballet with flamenco and it's amazing and mesmerizing to watch. The wonderful part of the school is that it gives all kids who are interested in learning to dance an opportunity to take classes, even those without enough talent to make it to the professional company that tours the world.
3
Cuba is more capitalist than communist.
Cubans are entrepreneurs in many ways. Just walking down the street, you'll see window ledges filled with all kinds of goods for sale—like baby booties I saw a grandmother crocheting and selling in her front window (to locals as well as tourists).
People pick up scraps of metal and re-purpose them into all sorts of useful objects. In a street market I saw a man selling a frying pan that he had made himself, smelting all the metals and piecing the pan together with screws of various shapes and sizes. The same vendor sold nails, straightened with plenty of elbow grease for reuse. Everything possible is recycled and repurposed. In Cuba, there's a second life for just about everything.
But by far, Cuban paladars, private restaurants actually often inside peoples' homes, represent the most remarkable of capitalist trends. In years past, the government typically owned all the restaurants in Cuba. But as travel to the island increased, there weren't enough restaurants to accommodate all the tourists coming into the country. To fill the void, the government created a new policy of allowing Cubans to open restaurants in their homes as private businesses, employing their family members and others.
The paladar business exploded and soon paladars were springing up all over the country, growing to the point where the paladars began taking over the family living quarters. Some families moved into the back of the house while others found other places to live. It was worth a little uprooting and discomfort in exchange for the income the paladars provided and continue to provide. Today, tourists can find paladars all over Cuba, catering to all sorts of tastes and cuisines. Travel with us to Cuba and we'll make sure you have a list of the latest and greatest to try during your stay.
There is also a shortage of serviceable hotel rooms, with an abundance of subpar accommodations that tourists just wouldn't tolerate and not enough "good" hotels to answer to the demand.
Enter the casas particulares, which are private houses, much like bed-and-breakfasts in the USA. This has opened up another source of private enterprise for individual Cubans who can rent rooms in their homes and apartments and earn hard currency in the process. Cubans have been scrambling to renovate rooms (building materials are scarce, mind you), and to add rooms and bathrooms so they can rent to tourists. Many of the casas particulares offer private baths, and while the lodgings are typically very simple, they are very clean and much less expensive than a hotel.
Whenever I visit Havana, I love to stop by the used bookseller's market, reminiscent of what you'd see along the Seine in Paris although much smaller. The first time I went to Cuba in 2011, the posters cost ten CUC, at the time about $13. The second time I visited less than a year later, the same posters cost twenty CUC, or about $26. The third time they were thirty CUC, about $39. The Cuban government may be communist, but the Cuban people are decidedly capitalist!
4
Cubans welcome Americans to their country.
Cubans could not be more excited to welcome American travelers. The Cubans are incredibly gracious and welcoming, and they don't hold our government policy against us. (Most Cubans will simply tell us to please go home and lobby to get rid of the embargo.) Obama's historic visit to Cuba gave a tremendous push to the already robust flow of Americans to Cuba. This has created a great opportunity for Cubans to meet and really get to know Americans and discover for themselves that we are generally very decent and kind. Plus, Americans tip!
5
Cuba is not changing as fast as people think.
Record numbers of Americans are going to Cuba with the idea that it's going to change next week, and they want to see it before everything is different. The truth is, nothing is changing quickly in Cuba. There's a hotel in Havana that's been under construction since 2011. I was in Cuba just a few weeks ago and guess what? Construction is still stuck in the same place it was back in 2011.  Anything like hotel construction is really difficult and time consuming in Cuba. It involves having the government as a partner—having someone in the government who can help you get access to the materials, the expertise and the infrastructure. Change takes time in Cuba. Lots and lots of time.
Consider another example.  Wi-Fi in Cuba is limited even if you're staying at the Parque Central, the best hotel in Havana. During a visit, I went upstairs to the business center to sign up for the Wi-Fi. I discovered, much to my surprise, that I'd have to wait until the next day, until after they had checked out 40 rooms. Turns out the hotel only had bandwidth for 80 people to log on at once. If you're number 81, you're out of luck!
6
Cuba and its people are accessible.
As a destination, Cuba is the perfect place for a real traveler to visit. It's easy for Americans to get there, and it's accessible once they're there. Lots of Cubans speak English (at least in the cities), which they start learning at a very young age. Cubans allow you into their lives in ways not common in other cultures. They are very proud despite all the losing hands they've been dealt.
Yet, despite the poor access to wifi, the lack of all sorts of consumer goods, bad phone service and all the other issues that Cubans endure, there's a lot of happiness and music everywhere you go. If you want to sit and have a Coke or an ice cream cone, you're going to hear music! And you'll have an opportunity to buy the musicians' homemade CD to support them.
7
You could do Cuba on your own but you'd miss out on so much.
People often question whether or not they need to join a tour to get the most out of a visit to Cuba. The short answer is no, you don't really need to go on a tour. But if you go it alone, you're going to miss two important things:
The deep connections that companies like Friendly Planet have with Cuba are what makes your visit unique and worth the time and money. There's too much you'd have to research and make happen to have a similar experience.
It's a fantasy that you'll save money. You could book a flight, get a visa, obtain the mandatory insurance and add up the cost of food, a guide and so forth. But the cost will be, if not more, certainly not less—plus you'll have missed out on the most important thing: the inside view of Cuba.
As a traveler, I've worked to integrate my own rich and rewarding experiences into the People to People tours we offer at Friendly Planet. So come see for yourself.  Join us on our next Cuban adventure!