Liz Hutchins is a Reservation Agent at Friendly Planet Travel and an enthusiastic Downton Abbey fan. Liz took our Downton Abbey Christmas Ball with London tour in 2014 and absolutely loved it. We asked her to blog her thoughts about the tour, and here's what she had to say:
Well, fellow Downton enthusiasts, it's been a wild ride. With the close of the sixth and final season of Downton Abbey, we were left with a happy ending and a sad, but fond farewell to our favorite characters. It was wonderful to see the weddings, the birth of Mr. Bates and Anna's son, and finally a triumph for Mr. Barrow. We all had so many things to appreciate, and now, with the series behind us, it is time to look ahead. What better event to look forward to, than our annual Downton Abbey Christmas Ball!!
Of course, when faced with the amazing opportunity to take this tour two Decembers ago, my thoughts went to the most important aspect of this special event…
What the heck was I going to wear?
We were advised that for men, a suit and tie is required. For women, "Cocktail Attire". My first instinct was to go for period costume. I was thinking about something from the 1920's, and close to the costuming on the 3rd and 4th season of Downton Abbey. A good compromise would be to wear a simple, but elegant black dress, and then to find a necklace or some accessory as a nod to my favorite fashion era. It was helpful that I have a vintage costume jewelry collection, but as we move into summer and fall, lots of flea markets and yard sales will be coming up. Those are the best places to find excellent pieces, and for very little money.
BUT, being the dedicated Downton fan that I am, I had my dress custom made, by Bobby Goodrich, of Bobby Fabulous Designs. I kind of held back. I mean, my dress did have a cape, which was amazing by the way…but I think I could have gone a bit further. Upon seeing my travel mates, in their evening finery, I was downright jealous! Some had beaded vintage 1920's style gowns, more than a few wore opera length gloves, others were bedecked with tiaras, diamonds, and pearls, and one couple had matching white tie tuxedos. The Dowager Countess would have been so proud!
With the plan for my special outfit all settled, I turned my mind to the interesting and enjoyable things to do during my time at leisure in London.
When it comes to a decadent way to spend an afternoon, a champagne high tea is tough to beat. It's such a treat to get dressed up, and have a lovely glass of bubbly while you select your tea. They then bring it out in such a beautiful tea set, traditionally accompanied by scones with clotted cream, tiny pastries, and tea sandwiches. You will have a Champagne Tea included with your fellow travelers this year. If you would like to arrange one on your own however, there are hundreds of hotels in London that offer this service. Keep in mind a couple things when picking which one you will enjoy.
First, most of the well-known establishments will be booked up on weekends, so always make sure to have a reservation. Tea time is traditionally around 4 pm, but it's totally acceptable to have tea for lunchtime, too. You can make online reservations, and if you take care of it 30 days or more from the day you want, you should be able to get a confirmation without a problem. Secondly, make sure the place you choose is well reviewed. TripAdvisor will be your best resource for this.
Another thing I loved was the shopping—especially Geo. F. Trumper. I know it's a little strange for me to be excited about a Gentleman's Barber and Perfumer, royally approved since the late 19th century, but bear with me. In Curzon Street, this little shop is known for having some of the best soaps, scents, skin care and shaving equipment. The packaging is worth the money alone, but the quality of their products is superb. You can get a proper straight razor shave there, but if you are a lady like me, you're there for the holiday gift opportunities.
Of course, we are ultimately here for Downton, right? While in England, you'll have the free time to visit some must-see Downton filming locations: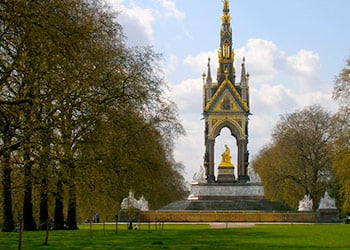 Prince Albert Memorial: It will probably be too cold to have a picnic at the memorial like the Allsopps and Levinsons, but don't miss this beautiful and important monument. You would also be within walking distance to the Princess Diana memorial fountain, and Royal Albert Hall is right across the street.
Rules Restaurant: Visit this historic restaurant used in three scenes of the show. Relive another moment of Edith with her first love Michael Gregson, as they met for lunch when she first considered writing for his magazine. Then imagine having a toast to Rose's upcoming wedding, as she, Tom, Edith and Mary all had lunch there together. Lastly, you could always have a quick drink before dashing off, like Edith and Bertie before the magazine deadline.
Oxfordshire Cotswolds: For serious Downton fans, you can visit the towns they used for many locations, like the Crawley family home, Downton Cottage Hospital and Downton parish church.
Finally, one question I get all the time since I have been to the Ball is, "Where can I take photos at Highclere?" You will have the option for photos in a few places, and I have some suggestions as well. I recommend going to the lobby early before your pick up at 4pm. This way, you can have a drink at the hotel bar and get to know your fellow travelers before you leave. How will you know who is going to the Ball? Well, just look for the other impeccably dressed passengers, and it's likely they are with our group. The hotel lobby had a lovely Christmas tree and made for a great backdrop for photos. Now you will also have the opportunity of being photographed in front of the tree at Highclere Castle, but it's a bit pricey; you should budget about $50 minimum for a photo to be printed and mailed to you. Another photo op will be in front of the Castle at night. When you drive up, you can't help but "ooh" and "ahh" when you see Highclere flood lit in the distance. You can take photos of the facade before you enter, but taking photos inside the castle is prohibited.
I am so incredibly excited for anyone who gets to experience the Downton Abbey Christmas Ball this year. It is truly the trip of a lifetime for any Downton fan. If you have questions I didn't mention, just give me a call at 1-800-555-5765. You can also email me at [email protected]. I hope to hear from you soon!