There aren't many places in the world that can compare to the island of Borneo, Malaysia, where a mosaic of indigenous tribes, intriguing history, ancient rain forests, winding rivers, and diversified wildlife await.
Imagine a day spent exploring an electric city, making your way through bustling exotic markets in the shadow of looming skyscrapers. Stroll down lantern-lit streets, haggle with street vendors, and visit temples and other ancient remnants of Malaysia's unique and colorful heritage, tucked among the sky scrapers, shopping malls, restaurants, nightlife, and other icons of modern life.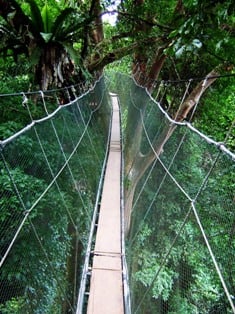 Then, spend the next day knee-deep in local umbrage as you follow your guide past shrieking monkeys and luminescent birds on a tour of one of Borneo's national parks. Take a guided canopy walk hundreds of feet above the forest floor. Explore incredible cave formations, and take a dip in the ocean at one of the country's beautiful white sand beaches.
Our 15-day Borneo Adventure for $2,899 offers the chance to see and do all this, and so much more. This trip is truly a fantastic journey of discovery for a price that is as amazing as the destination itself.
Travelers explore Kuching, Batang Ai, Mulu, Kota Kinabalu, and Kuala Lumpur, with an optional Penang Island extension. As always, the $2,899 price includes airfare, fuel surcharges, great hotels, transfers, many meals, touring, and more.
The remaining 2009 departure is already sold out, but we still have spots available on all three of our spring 2010 departures: March 24 – April 7, April 14 – April 28, and May 12 – May 26. For more information on the Borneo Adventure, have a look at our Web site. And if you have any questions, please don't hesitate to contact us!
Photo credits: imagine.asia and Wikipedia