It's been almost a year since my visit to Vietnam. I can't believe how fast time flies. It feels like I was just basking on the sun deck of the Emeraude, sailing in the beautiful waters of Halong Bay. Vietnam was one of those trips that I just didn't want to end.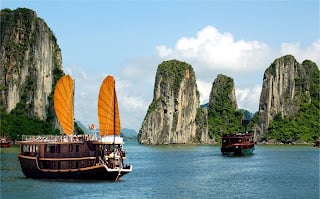 CRUISING: Halong Bay's stunning emerald green waters
When I was there, I fell in love with the country's extraordinary beauty and charming people. I've never before experienced a country whose people were so warm and receptive to tourists. Despite America and Vietnam's history, the Vietnamese people hold no animosity towards us.
In fact, if you don't speak Vietnamese, you really only have to smile to communicate with the people. After spending two weeks in the country, I wanted to make sure our Taste of Vietnam tour was giving something more than just tourism back to the country.
I set out to find opportunities for our travelers to directly give back to the locals of the towns they are visiting. So now on the Taste of Vietnam tour, we bring travelers to KOTO. It is a nonprofit restaurant and vocational training program that is changing the lives of disadvantaged youths in Vietnam. A portion of what our travelers spend there goes directly back to KOTO to continue to improve the lives of Vietnamese children.
Another place we visit, en route to Halong Bay, is a shop where travelers can buy paintings and jewelry. The profits from the shop go to a school that teaches handicapped Vietnamese to become artisans. The students then create all of the artwork in the shop our travelers visit. Everything you buy directly benefits students at the school.
Better yet, these two places are not often visited by tourists. So you get to not only give a little something back to this beautiful country, but you also get to see some places off the beaten trail.
In addition to finding these great social causes in Vietnam, I found more ways to make the eight-day Taste of Vietnam tour even better. For $1,199 you'll also visit two of Vietnam's most dynamic and culturally awe-inspiring cities, Ho Chi Minh City (Saigon) and Hanoi.
The price includes round-trip airfare from Los Angeles, all intra-Asia flights and ground transportation, superior hotel accommodations, daily buffet breakfast, and comprehensive sightseeing in each city with a local, English-speaking Vietnamese guide.
The tour immerses travelers in the country's rich culture, starting with Ho Chi Minh City (still called Saigon by many locals) and ends in Hanoi. They see the country's floating markets, winding canals, sweeping rice paddies, and bustling cityscapes.
Travelers also take a step back into the country's history with a trip to Hoa Lo Prison, also known as the "Hanoi Hilton," and the Cu Chi Tunnels that were part of the underground highway of the Viet Cong.
There is also an array of discounted optional tours, including the Halong Bay overnight cruise, my personal favorite. Travelers stay aboard a deluxe river boat, the Emeraude. It's a replica of one of the classic steamships of the colonial era of French Indochina. You feel like you're in the movie, "Indochine," which consequently, is played on your stay.
And if that still isn't enough, take advantage of your already included international airfare and spend three additional nights in Bangkok, Thailand. Visit what is often called the "Venice of the East" for its network of canals (klongs), and explore Bangkok by boat.
Book our eight-day Taste of Vietnam tour for $1,199 by Feb. 24, 2010. As I said earlier, it's almost impossible not to fall in love with this amazing country and not want to leave. For complete details, visit our Web site. If you have any questions, send me an e-mail.