The opportunity to travel to faraway exotic destinations gives us unparalleled personal access to cultures, plants, animals and ecosystems we can't experience at home. On this Earth Day, we wanted to take a moment to celebrate one of the most exotic, wild and scenic locations on our planet, Malaysian Borneo—a destination we've grown to know and love over the many years we've visited.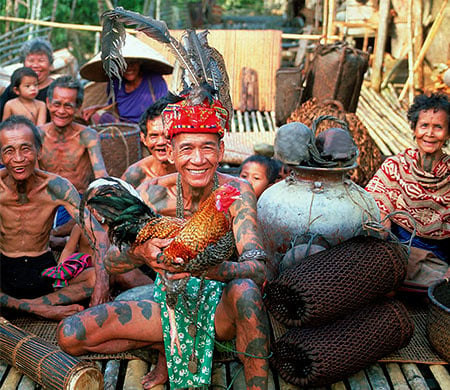 The deep and mysterious jungles of Borneo have played host to headhunting tribes and giant man-like apes—and they are rumored to be the true setting for Mogli, Baloo and Sheer Khan in The Jungle Book. But for the modern-day explorer, Borneo is a unique treasure trove of biodiversity where the opportunities for discovery are limitless.
You can travel through scenic countryside lush with verdant rice paddies and tropical orchids. You can explore quaint tribal villages where entire communities live in a single longhouse and some still hunt by blow dart. You can discover birds with plumage that defy imagination, flowers with colors you've never conceived, and one special, orange primate that will hold a place in your heart forever. We are incredibly lucky to still have a place like Borneo—a place that maintains its unexplored, off-the-beaten-path feel while still being accessible to travelers like us.
And because of the untamed nature of the island, many species of rare, indigenous animals call Borneo home. So in honor of Earth Day 2016, we've compiled a list of five incredible creatures you might only find in Borneo.