If you live to eat and enjoy exploring food culture around the world, Japan should be at the top of your travel wish list.
In Japan, cooking is an art guided by centuries-old culinary traditions, but there are also modern chefs adding new twists to longtime favorites. The country offers a wealth of culinary experiences from the very high end to inexpensive day-to-day treats. Whatever you prefer, there are foods to excite every kind of eater.
Japanese chefs train for decades to perfect the work that they do. And this dedication pays off: Tokyo has more Michelin-starred restaurants than any other city in the world, more than Paris and New York combined. Food is so important to Japanese culture that the United Nation's cultural organization, UNESCO, recently added traditional Japanese cuisine (washoku), to its Intangible Cultural Heritage list. It was only the second national cuisine to be given this honor, after France.
Japanese chefs use only seasonal and top-quality ingredients. Simplicity is key, and they do as little as possible to fresh ingredients to bring out the color and flavor. Umami, the rich flavor profile prized in Japanese cooking, is enhanced by using just a few ingredients including miso, soy sauce, mushrooms, seaweed, and bonito (fish) broth. The food is carefully plated and the finished dish often looks like a work of art.
In Japan, seafood is king and sushi lovers should take advantage of some of the freshest fish you will ever eat. But there is a lot more to Japanese food than sushi. Here are a few examples:
Richly marbled Wagyu beef, often considered the finest in the world
Yakitori, chicken and vegetable skewers grilled over hot coals
Tonkatsu, deep-fried pork cutlet rolled in bread crumbs
Okonomiyaki, a batter pancake topped with meat, squid, shredded vegetables and garnished with sweet brown sauce, mayonnaise, seaweed and bonito flakes
Soba, udon, and ramen noodle soups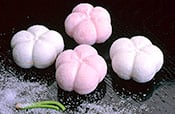 If you have a sweet tooth, you'll feel right at home in Japan. Each region has different styles of traditional sweets, known as wagashi. These delicate creations are often sold in convenience stores and train stations, and come in beautifully wrapped boxes because they are customarily given as gifts to friends and family. In the Kyoto area, look for yatsuhashi—thin, triangle-shaped sweet rice wrappers filled with red bean paste. Northern Japan's Miyagi Prefecture is known for soybean production, so you'll find edamame used in many local sweets, including ice cream and even Kit Kat bars!
Wine lovers will love trying sake, or Japanese rice wine. Sake has been brewed for over 2,000 years and the flavors vary greatly based on where it is made and the natural characteristics of the rice and water. Spirit and beer lovers should try local whiskey and craft beers, both growing in popularity.
Here are some unique food experiences to add to your list:
Kaiseki Ryori, a refined multicourse meal with a focus on fresh, seasonal ingredients. This is best experienced in a ryokan, a traditional Japanese hotel where the meal is served in your room.
Kawadoko ryori, a unique summer dining experience where you enjoy your meal seated on a platform built over a flowing stream.
Shojin ryori, the traditional cuisine of Buddhist monks served in a Zen temple.
Traditional Japanese tea service, to learn the ceremonial ritual and art of hand-grinding matcha green tea
Visiting local markets: Tokyo's Tsukiji Market is the world's largest wholesale fish market that sells over 700,000 tons of seafood each year. In Kyoto, check out Nishiki Market, a centuries old gourmet market that lets you sample all the local specialties.
Browsing the food stalls in a Japanese department store. The lowest levels are dedicated to specialty foods and offer many unique items, including beautifully packaged sweets and prized varieties of fruits, including melons fetching over $200 each!
Mingling with locals after work at the neighborhood izakaya, a casual bar that serves small plates of food.
Sampling international cuisine and foods you know from home—Japanese chefs often find ways to put their own unique touch on international classics.
The most adventurous eaters can try fugu, a poisonous blowfish. The dish has to be expertly prepared to be safe to eat, but it's one of Japan's finest delicacies.
Dishes vary across the regions of Japan, but wherever you go you are sure to find something unique and delicious. So pack your appetite and a willingness to try something new on one of Friendly Planet's tours to Japan — you won't be disappointed!
Cassie Kifer is a freelance travel & food writer from the the San Francisco Bay Area. She's the founder of Ever In Transit, an adventure & culinary travel blog offering travel tips, stories, and photography from destinations around the world. Connect with her on Twitter, Facebook, or Pinterest.