South Africa is a truly exceptional travel destination. Few places on earth offer such an alluring variety of gorgeous scenery, historical relevance, modern cities, and world-class wildlife viewing. And we've found that while words can begin to describe the thrill of tracking game in a private reserve, or the peaceful moment at dusk as the setting sun silhouettes Table Mountain on a purple sky, it's pictures that ultimately do the country justice (and visiting too!). If you're looking for something to jump start your South Africa wanderlust, look no further!
Ready for your own South African adventure? We have South Africa tours for any style and budget. Join us!
1

South African Safari

Take a journey, beyond the familiar, on an unforgettable South African safari. Throughout the diverse landscape, Mother Nature reigns supreme. South Africa is home to more than 1,100 unique species of bird and mammal! Kruger National Park, one of Africa's largest game reserves, offers visitors the chance to glimpse an incredible ecosystem as well as rare or endangered animals! The reserve is home to the Big 5: lions, leopards, rhinos, elephants and buffaloes as well as cheetahs, giraffes and more!
2

Johannesburg

Known in Zulu as eGoli or "Place of Gold," Johannesburg is the second largest city in Africa (after Cairo, Egypt). The city was founded in 1886 after gold was discovered in the mineral-rich Witwatersrand range. Today, with a bustling night life and exploding restaurant scene JoBurg or Jozi (as it's known to the locals) is a fantastic place to eat and drink, shop, and explore! It's also known as the largest man-made urban forest in the world as the city's government has planted more than 10 million trees to date in the bustling environment.
3

Cape Town

Cape Town, founded in 1652, is rich with history and culture. Notably, Nelson Mandala made his first public speech following his release from prison on the balcony of Cape Town's City Hall. Tens of thousands of visitors each year take the short ferry trip to Robben Island, designated a UNESCO World Heritage Site, to witness the place where Mandela served 18 years behind bars. In addition to touring the small prison island, visitors to Cape Town should make a point to indulge in the city's vibrant food scene including some of the world's best restaurants, Victoria & Alfred Waterfront for shopping and entertainment, and hike one of the city's adjacent natural parks.

4

Table Mountain

Overlooking Cape Town, Table Mountain's dramatic and towering landscape draws thousands of tourists each year. At its highest point, this geological masterpiece, one of the world's "New Seven Wonders of Nature," rises 3,563 feet above sea level! Amazing vantage points can be accessed via the Table Mountain Cableway. Or, for the more adventurous traveler, Table Mountain boasts the world's highest abseil (rappel) at 367 feet! In addition to stunning views, this diverse and bountiful ecosystem features more than 2,200 species of plants—many of which are found nowhere else in the world. Many of the plants species, found only in South Africa, have delicate or fine leaves and are referred to as "fynbos" foliage, which means "fine bush" or "fine forest."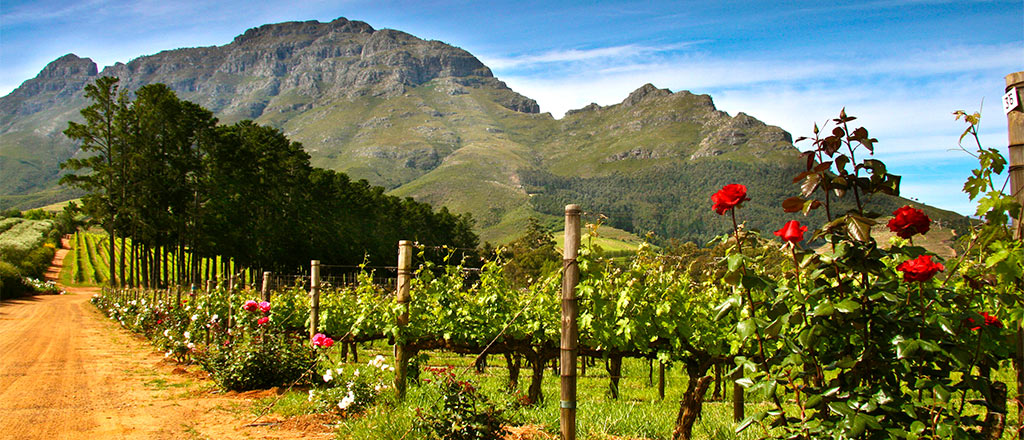 5

Cape Winelands

Nestled among South Africa's mountains is a network of sweeping green valleys perfect for vineyards! The Cape Winelands, as this region is known, offers visitors an amazing opportunity to sip unique vintages, such as Pinotage, among rows of neatly planted grapes…set against a striking backdrop! Wine production here goes back to the late 1600's. Today, quaint farmsteads dot the valleys and historic towns like Franschoek (known as South Africa's foodie capitol), Paarl, and Groot Drakenstein provide endless opportunities to shop, dine, and drink!
6

Blyde River Canyon

Every inch of Blyde River Canyon's 16 miles offers visitors a unique and unparalleled peek at the dramatic beauty of South Africa. Blyde is the third largest canyon in the world (behind the Grand Canyon in the U.S. and Fish River Canyon in Namibia). From breathtaking views of rolling mountains, the Three Rondavels, God's Window, and Bourke's Luck Potholes, to the diversity of life that inhabits the canyon, including some primate species only found in South Africa—this is a must-see!
7

Sun & Sand

Amid the plethora of experiences and landscapes that South Africa has to offer, beautiful blue waters and white sandy beaches are plentiful—and popular with tourists and locals alike! South African beaches provide endless relaxing and recreation all year long. In KwaZulu Natal, known as the Garden Province", you can even enjoy the beaches in winter! Cape Town has many famous white-sand beaches, Sea Point and Clifton to name a few. Boulders Beach, formed of inlets between granite boulders, is home to thousands of African penguins. In Hermanus, on the Western Cape in the heart of the whale route, shore-based whale watching delights visitors between June-late October as southern right whales leave the Antarctic waters to mate and calve in the warmer waters of the southern Cape. Hermanus has been called one of the twelve best whale watching locations in the world by the World Wildlife Fund!
8

Rainbow Nation

In 1994 Archbishop Emeritus Desmond Tutu described South Africa as the Rainbow Nation. With more than 56 million people and 11 official languages, multiculturalism and diversity proudly influences modern day South Africa—from food and music to fashion and arts. Traditional works, like the Pedi beadwork pictured here, are meticulously handmade by skilled artisans from materials ranging from beads and leather to recycled bags, glass, and bottle caps! You can find these amazing works in every corner of the country, metropolitan shopping areas and rural villages alike!