Stretching from South Africa to Angola along Africa's southwestern coast, Namibia is a large, wild, and relatively unknown land, often overshadowed by more renowned Sub-Sahara destinations. But while the country may be young (it only gained independence from South Africa in 1990), its treasures are truly ancient—a place of natural wonders and special encounters for those who pursue them. Here you'll find expansive, other-worldly landscapes and bygone cultures found nowhere else on earth. It may be far-flung, but for those who make the trek, Namibia's quiet beauty is endlessly rewarding. And short of seeing it first-hand, it is a place best experienced through photos.
Want to see it for yourself? Discover the Best of Namibia on our newest tour, and click below for some spectacular photos.
Flamingoes on the beach near Luderitz
Namibia is one of the least densely populated countries in the world, meaning there are few places more wild and untrammeled. Here, a group of wild flamingos strut about a lonely beach near Luderitz.
The Namib Desert
Namibia gets its name from the Namib, a vast desert (Namib actually means "vast place") that makes up the entire Atlantic coast. It's one of the driest places on Earth, and thought to be the world's most ancient desert, perhaps up to 80 million years old. But this barren land actually supports a surprising amount of life, including the mountain zebra, the oryx, and the welwitschia mirabilis, a two leafed plant that can live for over 1,000 years!
A quiver tree in the Kalahari
To the east, you'll find another desert—the Kalahari. Though not truly a desert, this vast arid region is home to a profusion of amazing mammals, including the Kalahari lion,  giraffes, hyenas, warthogs, jackals, baboons, and a wide variety of antelope. For some 20,000 years, it has also been home to the San people, the famous Bushmen of Africa, most famously depicted in the film The Gods Must Be Crazy. These ancient hunter-gatherer tribes used hollowed-out branches of the quiver tree to store their arrows, giving them their name.
An oryx at Sossusvlei
Namibia is home to the tallest dunes in the world—the tallest tops out at over 1,200 feet high. Perhaps the best-known (and most photogenic) are the rust-red dunes at Sossusvlei, in Namib-Naukluft National Park. And you know what's cool? You can climb them! Apparently, so can this oryx. These hearty antelope prefer near-desert conditions and can survive without water for long periods. But watch out for those saber-like horns—the oryx has been known to kill lions with them!
Skeleton trees at Deadvlei
Set against the towering dunes of Sossusvlei is Deadvlei, a white clay pan that was once an oasis until the Tsauchab river changed its course. Now, this stark plain is now populated only by dead, blackened camel thorn trees, known as Namibia's skeleton trees, 600–700 years old and so dry that they have never decomposed. But during exceptional rainy seasons, the pan sometimes fills with a thin layer of water forming a glassy lake (vlei is Afrikaans for "shallow lake") which reflects the surrounding red giants. This eerie, otherworldly landscape is a photographer's dream.
Spitzkoppe
North of Sossusvlei, jutting up from the plains, you'll find Spitzkoppe, the "Matterhorn of Namibia." This dramatic group of bald granite peaks features many incredible formations, including this famous archway. Fans of 2001: A Space Odyssey may recognize these mountains as one of the filming locations.
Damaraland
Continuing north, you'll encounter the dramatic landscapes of Damaraland, homeland of the Damara people.
One of the most famous attractions here is Twyfelfontein (Afrikaans: "uncertain water spring"), a UNESCO World Heritage Site. In this dry valley, you'll discover one of the largest concentrations of petroglyphs in Africa, some 2,500 ancient rock carvings (and some paintings) depicting rhinoceros, elephants, giraffes and ostriches. You'll also find preserved human and animal footprints which are at least 2,000 years old.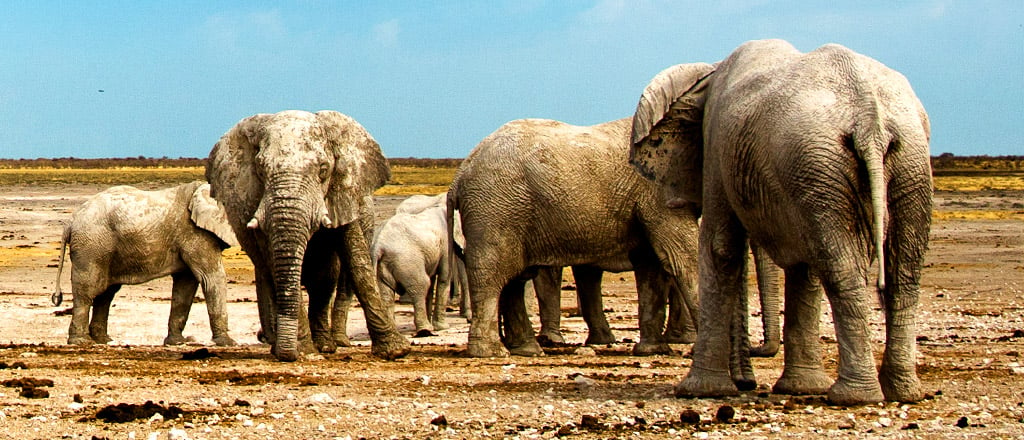 Elephants at a waterhole in Etosha National Park
Not all of Namibia is a desert. In the north, you'll find the country's most famous national park, Etosha, a teeming wildlife refuge home to hundreds of species of mammals, birds and reptiles, including the endangered black rhinoceros. Here, a herd of mud-encrusted elephants gather at a watering hole, a common sight in Etosha.
The park centers around the Etosha salt pan, the largest in Africa, visible even from space. This ancient lakebed has been dry for around 16,000 years, and during dry times it is used as a salt lick for the area's wildlife. But during wet periods, it once again fills with water, and the ephemeral lake attracts thousands of migrating flamingos.
A lion in Etosha
The lions of Etosha are an incredible wildlife conservation story. These lions have evolved an immunity to FIV (Feline Immuno Deficiency Virus) which is a threat to most African lion populations. Consequently, they have been successfully introduced into other parts of Africa to help sustain those lion populations.
Meerkats on the lookout
Another denizen of Etosha (as well as the Namib & Kalahari Deserts) are these adorable meerkats, a member of the mongoose family. These small, very social animals live in large "mobs" of 20-50 individuals, and are commonly seen near their burrows, perched on their hindquarters surveying their surroundings.
Maybe you may remember Meerkat Manor, a British documentary series that aired on Animal Planet (2005-2009) , following the lives, struggles and adventures of the "Whiskers" family of meerkats.
Himba children
Also in the north, you'll find tribes of indigenous Himba people, the last semi-nomadic peoples of Namibia. Isolated from the outside world by their desert home, the Himba still practice their traditional way of life. Tourists may visit Himba tribes, but only under strict government-imposed guidelines in an effort to help preserve their unique culture.
The Himba, especially the women, are perhaps best known for covering themselves with otjize paste, an aromatic ochre pigment mixed with butter, to cleanse the skin and protect themselves from the hot and dry climate. This paste gives their skin and hair a distinctive orange or red-tinge that is considered by the Himba to be a sign of beauty.
Traditional Dance
Among the indigenous peoples of Namibia, dance is a part of everyday life. It is not simply entertainment, but an essential component of their society and culture. And like the wide variety of native people in Namibia, there is also a vast diversity of dances practiced across the country. Some, such as the Outjina, Omuhiva, and Okunderera, may mark a celebration; others, such as the Divare and Kayaote, may be used as part of a healing ritual; still others may serve as an initiations rite or even a competitive game. But perhaps the most distinctive is the Omupembe, in which young men jump over each other's heads!