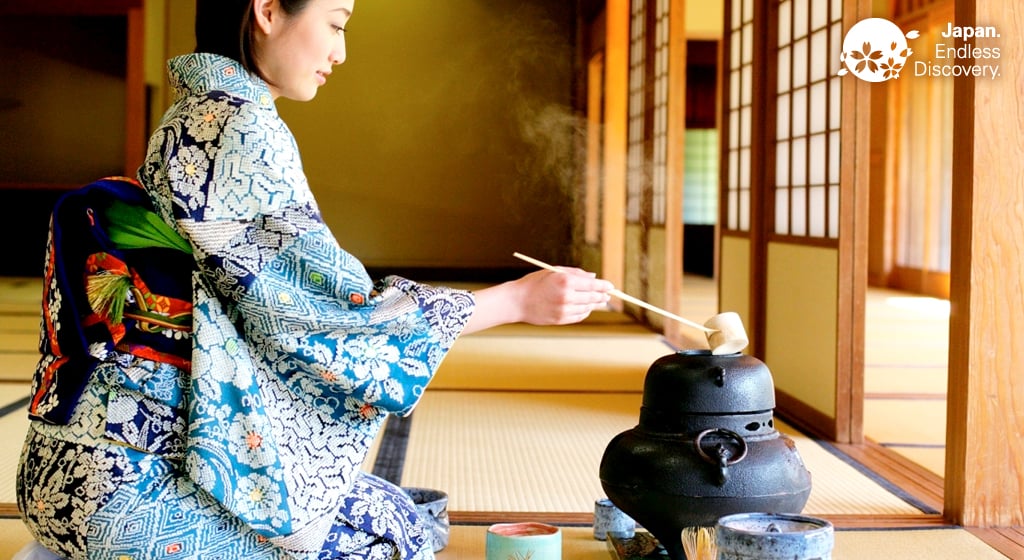 The Japanese Tea Ceremony, also known as the Way of Tea, is steeped in ritual and tradition, and can sometimes seem intimidating to the casual tourist. Luckily, we discovered this beautifully shot 3-minute video by Saneyuki Owada. It's a presentation of the Way of Tea by Tea of the Men, a Japanese culture art performance group whose mission is to make the Japanese Tea Ceremony more enjoyable, more interesting, and easier to join for all.
The Way of Tea is the traditional method of preparing and drinking matcha, or powdered green tea, first practiced by Zen Buddhist priests to achieve a contemplative calm. Traditionally, the ceremony is performed in a chashitsu, or a room specially built for tea ceremonies, with a waiting area, tatami floors, screens, and a hearth built into the floor for boiling water.
You can see in the video all the tools used for the ceremony, collectively known as chadogu. The maroon hemp cloth used in the beginning to wipe the spoon is known as the chakin. And the spoon or scoop is called the chashaku, which can often be made of bamboo, wood or ivory. The natsume holds the powdered tea, while you mix the tea with water in the chawan with the chasen, or tea whisk.
Participating in a Japanese Tea Ceremony is an incredible way to discover the culture of Japan, not to mention an incredible way to rest and relax after a long morning of sightseeing. Here are a few tea houses in Tokyo and Kyoto recommended by Japan National Tourism, though not an exhaustive list:
Hot Chinzanso Tokyo, Tokyo
Tea is served in traditional Japanese tea houses located in the hotel's garden. The houses are very old, and one of them has been registered as a tangible cultural asset. Please make a reservation at least 3 days in advance.
Imperial Hotel, Tokyo
The Imperial's "TOKO-AN" is a set of three ceremonial chambers, all faithful in minute detail to the prescribed sukiya style. Guests are invited to watch as their tea is prepared in the traditional fashion. Prior reservation is necessary, and you will actually stay at this hotel on our Japan Panorama small group escorted tour.
Nishijin Tondaya, Kyoto
In addition to the tea ceremony, you'll also have the opportunity to try on or purchase a kimono, or eat a traditional Japanese lunch.
Joukeian, Kyoto
Here you'll have the opportunity to experience the Japanese Tea Ceremony, and even take various courses (with English explanation) about the Way of Tea. Again, reservations are recommended.
On our Japan Panorama escorted tour, you'll have free time built into your itinerary in both Tokyo and Kyoto, where you can venture out on your own to experience the Way of Tea. On our Tokyo Express, Singapore & Tokyo and Orient Adventure independent packages, you are free to explore Tokyo unescorted, and we certainly recommend making a tea ceremony part of your adventure.