If you are heading to South Africa for the first time, consider yourself warned. Expect to be blown away. Expect to have your soul stirred. And expect to have your expectations shattered and rearranged beyond your imagination. Here are seven experiences I wasn't expecting on my visit to South Africa.
1

Hundreds of Languages are Spoken in South Africa

Though there are 11 official languages recognized in South Africa, hundreds more are spoken by its people, most of whom speak more than one language. Visitors will most often encounter English, yet it is spoken by fewer than 10% of the population. Make it a point to ask the people you meet along your travels about the languages they speak and you will be surprised, and even heart-warmed, by the efforts of many who are learning a new language to better be able to speak to more of their brothers and sisters.

Pay attention. You never know when your hotel receptionist might effortlessly switch from English to Zulu, or when the guide and ranger team on your safari might share stories about how they are teaching each other's families English and Xhosa (respectively).

You'll also quickly realize that though English is often spoken, South Africans have a wide array of slang words that will confuse Americans. To brush up on your South African slang, check out this post of terms compiled by our own Product Development Manager, who was born in South Africa.
2

There's Wildlife on Table Mountain

The dramatic bluffs of Table Mountain loom over the densely filled bowl of homes, luxury hotels and shantytowns in Cape Town, the oldest city in South Africa. Now, imagine a slow rewind, everything before you erasing until what is left has very little man-made imprint, to a time when South Africa's Big 5—lion, leopard, elephant, rhino, buffalo—roamed these lands. These days, you'll go on safari to safely see them, but you can still see plenty of wildlife right in Table Mountain National Park, with its more than 350 maintained walking trails.

The most common and most popular animal you'll encounter is the rock hyrax, more commonly referred to as the dassie. Although it looks like a large rabbit, the dassie is actually a hoofed mammal related to the elephant. You can also spot frogs, lizards, and many colorful birds. And keep on the lookout for more rare finds, like the Eland, the world's largest antelope, or the Tahr, a reclusive goat-like animal.
3

South Africa also has Penguins!

Think you have to go to Antarctica to see penguins? Think again. All penguins live in the Southern Hemisphere and you can visit the protected African Penguins (also known as jackass penguins, because they sound like donkeys braying) at the Boulders Penguin Colony in Simonstown, near Cape Town. I almost hate to ruin the surprise of seeing penguins in the wild—possibly for the first time in your life—amidst the balmy and arid Cape, but you don't want to miss them. Something else you may not expect? They stink!
4

Robben Island is Incredibly Powerful

Nelson Mandela served 18 of his 27 years in prison doing hard labor in the stone quarry on this formidable, isolated island where he was permitted a visitor only one time, for thirty minutes, per year. It was here that Mandela was transformed from human rights and political activist to the leader who would end apartheid and become his country's first democratic president. It was also here where he secretly wrote much of his unforgettable autobiography, Long Walk to Freedom. Mandela was released in 1990 and Robben Island ended its era as a political prison in 1991, finally becoming a UNESCO World Heritage Site in 1999.

Do not miss the chance to visit Robben Island, reachable three times per day by ferry from Cape Town. Nothing can prepare you for your tour guide to reveal that he himself was once a political prisoner at Robben Island. Mine was Mogamad Sedick Levy, inmate #60/63, who was charged with arson and inciting activists. When Levy tells the stories of the abuse and hardships heaped on the prisoners, he speaks as "we" and "us."

At the quarry, Levy points to a pile of stones and shares the story of a 1995 reunion of 1,300 inmates, at which Nelson Mandela placed the first stone and then each of the others carried theirs to add to the pile. It is now a monument to all of the political prisoners once held at Robben Island.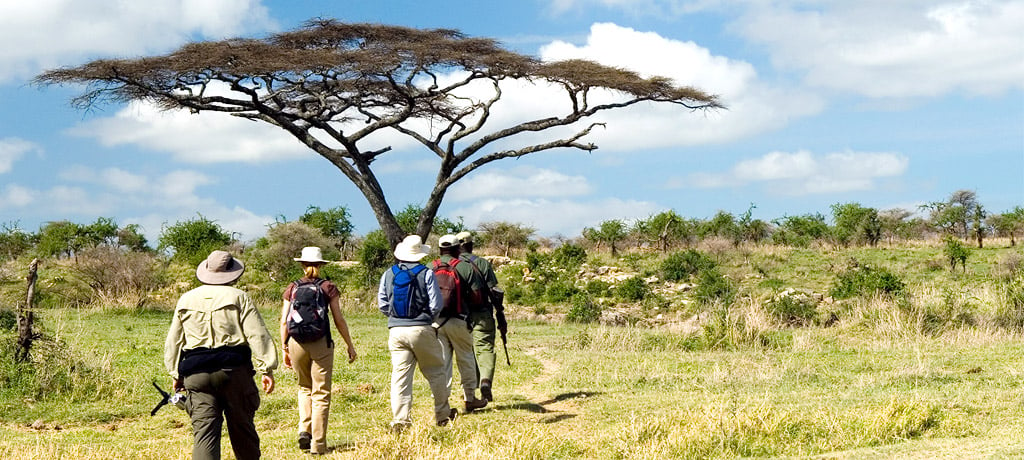 5

You can go on a Walking Safari

Even if you have to save for 20 years to go on safari, it will be worth it. There is no parallel experience to seeing such an array of magnificent animals in their own environment and on their terms. If you are flying into your safari park, don't forget to look down! Giraffes grazing, rhinos or water buffalos at a drinking hole, a line of elephants on the move—you never know what you'll see but this first glimpse gives you a taste of what's in store.

Your safari outfitter will ensure that you have as varied and magical an experience as possible. Embrace the yes and option in, if given the choice, to a morning on foot with your ranger and tracker. You are in the hands of experts and leaving the vehicle becomes a visceral experience.

I recall this exchange from my morning walk while on safari, "If a buffalo should charge, don't run," cautioned my ranger, Seth Vorster.  "Look at me and I'll tell you exactly what to do." Seth and Dumi Qwabe—our tracker—and I were following a herd of Cape buffalo. "They've been here within the hour," Dumi announced, pointing at their hoof-prints in the red sand, and their steaming piles of dung.  An encounter with the buffalo seemed imminent.

That kind of experience taps into our most primal memories as humans and for most of us, it is completely unmatched.
6

Sundowners

Safari hosts have a trick up their sleeve: creating magic in the wild, a feat so astonishing at times that it may seem as though they conjured the scene with a "hocus pocus."

Picture this. You're dusty and parched from a couple hours on a late-day game drive on rutted roads, or no road at all. Perhaps you've witnessed a lion or two dust past your open-air vehicle, nonchalantly heading for a watering hole, or followed reports of a baby elephant new to a herd. Then, without warning, your ranger stops the vehicle and invites you to get out—an act that is usually forbidden for safety reasons. "Sundowners," he announces, the cocktail hour of the bush.

Within minutes, supplies from a tin box are spread upon a cloth-covered table and the bar is being tended. Ice-cubes plucked from a tooled-leather ice bucket clink in silver cups; biltong jerky, nuts and dried fruit are offered. Such civilized touches in the realm of the wild. It's the perfect time and place to relish the exhilaration of your earlier wildlife encounters.

So you see, there's so much more to South Africa than the bucket-list safari experience that you expect. Stay those extra days if you can, and opt for the add-ins to enrich an already over-the-top dream come true. There is simply nowhere like South Africa to send your soul and senses reeling.
7

The Wine is World-Class

Speaking of sundowners: Some of the world's most famous wine comes from a region near Cape Town, Stellenbosch, whose main street, Dorpstraat, contains an impressive collection of white-washed Cape Dutch houses with thatched roofs and wooden shutters and doors. Here, wine is a celebration of sun, soil and centuries of history, and Stellenbosch doesn't disappoint. There are countless wineries producing incredible vintages, and no trip to South Africa is complete without enjoying an evening glass after a day of sightseeing. Two other popular wine regions to look out for when buying a bottle to take home: Constantia and Franschhoek Wine Valley.

Interested in visiting this fascinating country. Friendly Planet offers three tours to South Africa, and you can find them here.