The opportunity to travel to faraway exotic destinations gives us unparalleled personal access to cultures, plants, animals and ecosystems we can't experience at home. On this Earth Day, we wanted to take a moment to celebrate one of the most exotic, wild and scenic locations on our planet, Malaysian Borneo—a destination we've grown to know and love over the many years we've visited.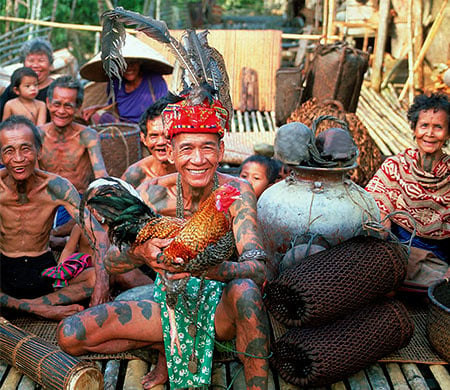 The deep and mysterious jungles of Borneo have played host to headhunting tribes and giant man-like apes—and they are rumored to be the true setting for Mogli, Baloo and Sheer Khan in The Jungle Book. But for the modern-day explorer, Borneo is a unique treasure trove of biodiversity where the opportunities for discovery are limitless.
You can travel through scenic countryside lush with verdant rice paddies and tropical orchids. You can explore quaint tribal villages where entire communities live in a single longhouse and some still hunt by blow dart. You can discover birds with plumage that defy imagination, flowers with colors you've never conceived, and one special, orange primate that will hold a place in your heart forever. We are incredibly lucky to still have a place like Borneo—a place that maintains its unexplored, off-the-beaten-path feel while still being accessible to travelers like us.
And because of the untamed nature of the island, many species of rare, indigenous animals call Borneo home. So in honor of Earth Day 2016, we've compiled a list of five incredible creatures you might only find in Borneo.

1 The Bornean Orangutan
Every traveler to Borneo undoubtedly seeks profound encounters with orangutan, the most well known of the island's inhabitants, with Borneo and Sumatra being the only places to view them in the wild.
The name itself is telling: orang meaning "person" and utan meaning "forest" in Malay and Indonesian. These "people of the forest" reside primarily in trees, building elaborate nests constructed of foliage and branches night after night. Noted by scientists for their intelligence, compared to other great ape species, orangutan use and make tools for different tasks, such as scratching their backs with a stick, or protecting themselves from the sun with giant leaves forming a canopy over their heads. An estimated 54,000 Bornean orangutan survive in the wild, offering plenty of opportunities for you to have your own chance encounter with these extraordinary animals.

2 The Borneo Pygmy Elephant
You can't get much cuter than a pygmy elephant, also unique to Borneo. Even the fully matured pygmy elephant has a baby face with giant ears and a long tail that sweeps the ground. Partly because of their docile and passive nature, people long believed these miniature elephants were descended from a domesticated herd belonging to the Sultan of Sulu. Thanks to modern genetics, we know for sure that the pygmy elephant is a bona fide indigenous Borneo islander, which somehow got isolated some 300,000 years ago from its slightly larger cousins in other parts of Asia.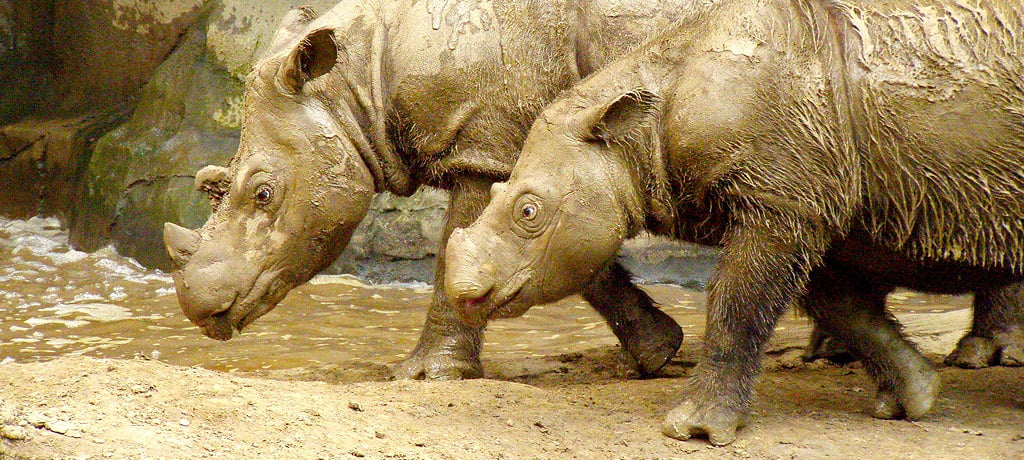 3 The Sumatran Rhino
Even rarer than the pygmy elephant is the Sumatran rhino, the smallest living rhinoceros and the only Asian rhino with two horns. Also known as "hairy rhinos," these endangered animals live in isolated pockets in the dense mountain forests of Borneo. There are so few left that they have only been spotted on infrared cameras. Until recently, that is, when the World Wildlife Federation was able to capture a young female Sumatran rhino—the first physical contact with humans in 40 years—with the intention of moving her to a protective sanctuary. Unfortunately, the young rhino died of a leg infection caused by a snare from an earlier poaching attempt. However, as a very thin silver lining, her successful capture and attempt at rehabilitation served as a crucial first step in an eventual long-term program to bring this species back to life.


4 The Sunda Clouded Leopard
Another rarity of Borneo is the clouded leopard, a medium-sized wild cat found in the lowland rainforest areas, named for its stunning coat of large, cloud-like spots. Genetically unrelated to leopards as we know them, the clouded leopard of Borneo and Sumatra was reclassified in the last 10 years as a species distinct even from its mainland Malaysian clouded leopard cousins. On Borneo, the Sunda Clouded Leopard ranks as the largest predator on the island yet its hunting strategies, as well as breeding behaviors in the wild, are little known.
5 The Spectacled Flower Pecker
In 2009 biologists discovered a bird species previously unknown to science in Sabah, located in "the heart of Borneo," a vast, biologically diverse rainforest area in the center of the island. The spectacled flower pecker flaunts white rings around the eyes and a white tuft resembling a stripe down its chest. It rarely flies beneath the canopy, preferring instead to feast on fruit high in the trees, and has yet to be seen again since the first sighting (This image is the only one we could find!). The Spectacled Flower Pecker highlights an amazing and encouraging fact about Borneo: scientists discover an estimated three new species of wildlife every month.
Unfortunately, as with many tropical areas around the world, the rare and exquisite flora and fauna of Malaysian Borneo are losing their habitats due to deforestation for commercial timber and the planting of palm oil plantations. And the increase in these activities has also enhanced the illegal wildlife trade, as cleared forests offer easier access to remote areas. We hope after reading this you'll consider the absolutely incredible array of animals on Borneo, and everywhere on earth, and think about our responsibility as humans and world travelers to preserve them—on Earth Day and beyond.

Interested in traveling to Borneo? While we can't guarantee sightings of the spectacled flower pecker or Sunda clouded leopard, we do offer two tours to Malaysian Borneo, with itineraries designed to immerse you in the incredible flora, fauna and human cultures of this exotic island. Check out those tours here.