There are few destinations in the world where you can lounge on the beach in the morning, zip line through the jungle at midday, and stroll the streets of a European-inspired capital at night. While Costa Rica might be one of the smallest countries in Central America, it's certainly jam-packed with unforgettable adventures.
Culture: Embrace pura vida: It's not often that a single saying grows into a national identity, but in Costa Rica, the phrase pura vida has encapsulated a nation. Pura vida — or pure life — is the perfect description for life in this Central American nation. Locals use the phrase informally, as a salutation (Hola, pura vida), to say thank you (Gracias, pura vida), and to express satisfaction or gratitude (Toda es pura vida), but it truly means much more. Costa Rica's a country filled with spirited and welcoming people — lovingly called Ticos — who express an undeniable joy for life. It's a culture that respects the earth before all else, and allows visitors to reconnect with the simple pleasures of life. The pura vida spirit lives in visitors long after a trip to Costa Rica.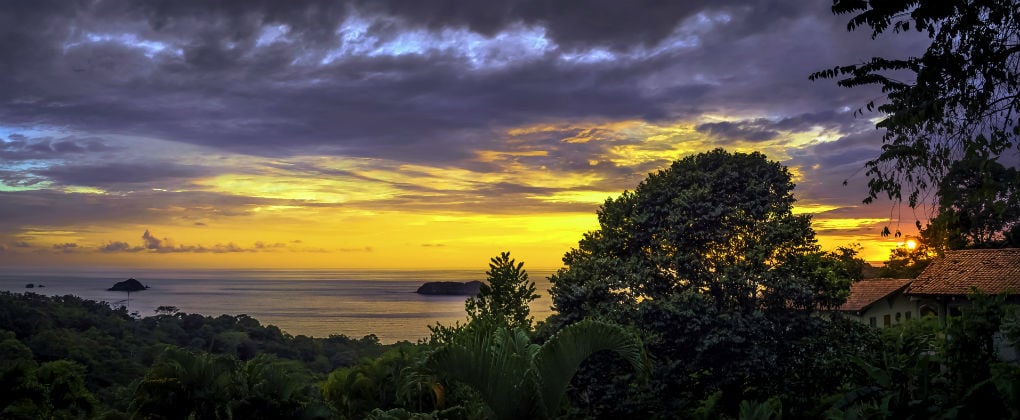 Weather: Enjoy the year-long warmth: Costa Rica falls close to the Equator, ensuring tropical temperatures between 64 and 81 degrees Fahrenheit all year round. While the Central American nation serves as the perfect midwinter retreat for us Northerners, it also features a wide variety of climate types for all to enjoy. The country itself is filled with about a dozen microclimates, allowing guests to experience warm, sun-drenched beaches, humid tropical rainforests, and cool cloud forests. Map out your trip, check the weather, and pack accordingly, because you never know what type of weather you'll face on your Costa Rican adventure.
Cuisine: Prepare for a caffeine high: Coffee lovers rejoice! Costa Rica produces some of the best coffee beans in the world, making it the ultimate destination for java heads. Stop by a local café to sample the famed Tarrazú coffee. It's bold, highly acidic, and considered one of the best coffees in the world. Traditional Costa Rican coffee is brewed through a chorreador de cafe, a make-shift Keurig, and is served with hot milk and sugar.
To-do: Experience the extremes of nature: A trip to Costa Rica is an excursion into the untouched purity of nature. Travelers can experience the tranquility of the outdoors by visiting the beaches of Tortuguero — the land of turtles — and walking beside endangered sea turtles as they storm the shores to lay their eggs. If the power of the natural world is more your style, travel to the base of Arenal Volcano, the world's most active volcano, to watch glowing rocks and molten lava spew down the mountain's side. Then enter into a world seemingly drawn from myth by visiting the Monteverde Cloud Forest. Here, you journey through dense foliage, ford babbling brooks, cross suspension bridges clinging to the mountainsides, and eventually emerge in a canopy of clouds. Costa Rica is a nature-lovers' paradise, and promises pristine encounters with unspoiled terrain.
Don't forget: Costa Rica is passionate about the environment: For a country smaller than Lake Michigan, Costa Rica is incredibly biodiverse. This pint-sized nation contains 4 percent of all of the species that exist on the planet, so maintaining this ecological paradise is top of mind for all Costa Ricans. The Costa Rican government has been at the forefront of environmental protection for decades, and more than 27 percent of the country's land has received protected status as national parks, wildlife refuges, or forest preserves. Corcovado National Park — located in the southwest region of the country — is the largest protected park in Costa Rica and one of the most biodiverse places in the world. This misty rainforest is home to jaguars, Baird's tapir, harpy eagles, and many other animal species. You can visit the park and easily spend a fascinating day wandering through the jade flora and fauna while spotting endangered wildlife.
There you have it, the top things you need to know about this hot travel destination! Costa Rica is a culturally rich and passionate nation that serves as the ultimate getaway for those looking to return to nature. Now's the perfect time to explore this untouched land.