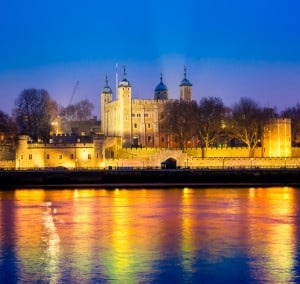 Halloween is an international holiday, but not every country celebrates it in the same way. Many nations put their own touches on some of our favorite traditions, and create unique and exciting All Hallows' Eve experiences. If you love spooks and spirits (both the undead sort and the stiff drink kind), consider traveling abroad to cities that embrace this haunted holiday. Here's my list of the top five international cities to visit on Halloween.
5. Transylvania, Romania: Travel to Eastern Europe to visit the home of one of the most famous Halloween figures of all time: Dracula. Travelers can take a tour of Bran Castle — sometimes called Dracula's Castle — to see the fictional home of the undead Count. The castle is situated in the heart of Transylvania, and serves as the inspiration for the setting of Bram Stoker's famous night walker novel. After a spooky evening tour of the massive fortress, visit the small village of Bram to cap off your traditional Transylvanian experience — just be sure to carry some garlic with you.
4. London, England: London is an elegant city with a macabre history. Visit London's infamous prison, the Tower of London, which housed political figures like Elizabeth I and Lady Jane Grey. Keep an eye out for misty forms and floating orbs as you learn about the tower's bloody past. For a more traditional Halloween scare, visit the London Dungeon — an underground haunted house — and meet some of England's renowned villains: Jack the Ripper, Sweeney Todd, and Henry VIII. London at Halloween's sure to frighten even the bravest of travelers.
3. Barcelona, Spain: Travel to Barcelona for a week-long Halloween celebration. The bars, nightclubs, and restaurants host fright-filled events for the entire week leading up to All Hallows' Eve. While Oct. 31 is a beloved holiday, Spain also celebrates All Saints Day on Nov. 1 and All Souls Day on Nov. 2 to remember lost loved ones. Barcelona is the perfect destination for Halloween enthusiasts.
2. Dublin, Ireland: The Irish love Halloween, in fact, some of the traditions we celebrate each year began in Ireland, including dressing in costumes, making Jack-o-Lanterns, and building bonfires. Throughout October, Dubliners celebrate Halloween with city-wide parades, haunted tours, and ghoulish decorations. Stop by the Brazen Head pub for a pint and maybe a chance to glimpse the ghost of Robert Emmet, a famed rebel leader from the 1800s, or take a tour of Dublin Castle, where ghosts are said to roam the halls at night. You'll be sure to have a spooktacular trip.
1. Edinburgh, Scotland: Edinburgh is one of the most haunted cities in Europe, and for that reason, the city has an affinity for Halloween. Attend the Samhuinn Fire Festival on Oct. 31 and watch a procession of dancers and devils parade down the Royal Mile in Edinburgh's Old Town. Travelers can descend below the city streets to tour the Mary King's Close — an underground city dating back to the 1600s — and visit with the ghosts and ghouls said to lurk there. If celebrating with the living is more your style, simply throw on a costume and join one of the city's many bar crawls for a night of merriment and ale. Edinburgh is the ultimate Halloween destination for any traveling ghost hunter.
Halloween is fast approaching, so consider celebrating it abroad — if you dare. Pack a costume and prepare for an unforgettable international Halloween adventure!