We initially posted this story in January 2014, but it still perfectly represents the exhilaration of traveling in India. It is written by Cherie Thiessen, a traveler on one of our Taj Mahal Express tours, and ran in an issue of Senior Living Magazine.
---
We're swerving and bumping our way along one of the world's oldest roads: the historic Silk Route, one of a network of connecting trade routes linking East, South, and Western Asia with Europe and North Africa. We're only taking this impossibly congested road from Delhi as far as Agra, a mere 240 kilometres, but that will nevertheless take us all day. Here's what will slow us down:
Cows lying in the middle of the road, nonchalantly munching on garbage. The drivers all manage to veer around them without altering their speed.
Two truckloads full of students, standing cheek-to-jowl in the back as they jerk and jostle to the music spilling out of the front. Every time the vehicles slow, some of the agile youths rappel out of the trucks and swap places, nonchalantly flicking in and out of traffic. Our driver brakes.
Women in rainbow saris balancing bales of chaff the size of smart cars on their heads, the edges of which scratch against our windows.
Vehicles ahead of us abruptly stopping in the middle of the road to enable occupants to pray alongside three-storey Hindu statues whose large eyes eerily track our every move.
A school bus crammed with tidy, uniformed children, barreling down on us on the wrong side of the freeway, forcing our two lanes of traffic to further divide into a very emaciated three. An overloaded fruit truck inching past the school bus so closely that a young arm is able to reach out and grab a banana from the teetering pile.
We wave and the children wave back exuberantly.
The third day into our whirlwind one-week tour of India's Golden Triangle has us relaxing into the chaos and adjusting to sensory overload. Besides my partner, David, and me, there are 20 others, the majority in their 50s, although a few fit members claim to be in their '70s. This is good because as the week unfolds, it's clear that a reasonable amount of fitness is required. Long walks, standing in the heat and post-monsoon humidity, climbing frequent flights of stairs, and putting in full days of activities, demand a reasonable level of fitness, and we're all too pumped to slow down.
What drew us to this small but meaty tour was one big magnet—impossibly cheap prices. So while it may seem foolhardy to endure a 16-hour flight for such a short time away, wasn't a week of India better than no India at all?
And after a day in Delhi, we agree that day alone was worth the trip. Our first visit was to one of the venerable ancient city's major attractions, the colourful and sprawling Hindu temple of Laxmi Narayan (Birla Temple) built in 1939 to honour the goddess of wealth and her consort, Vishnu; and our second was to the manicured gardens and revered memorial to Mahatma Gandhi. The day heated up as we honked and jerked our way to the UNESCO heritage site of 900-year-old Qutab Minar, with its elaborately carved 238-foot red sandstone minaret and 1,400-year-old un-rusted iron pillar, dripping history but not showing its age. Made of 98 per cent iron, the fact that it has never rusted or decomposed is a tribute to ancient India's metallurgy skill.
And then there was the madcap bicycle rickshaw ride down the constricted streets of old Delhi where we saw flashes of the country's essence. As our driver careened around a man hauling a cart laden with cushions, we watched a mother trying to pacify a child while haggling over a luminous, silken expanse of turquoise and fuchsia cloth, winced at a merchant crossing between bicycles with arms laden with pots, waved at a group of laughing students festooned with street decorations for the upcoming festival of light, Diwali, and cheered other rickshaw kamikazes in their race for customers and in their ability to avoid makeshift ladders where do-it-yourself electricians were balancing with electric cables in their mouths.

But now we're in Agra where the tour's siren awaits us, the pristine, gleaming monument to love—one of the new seven wonders of the world, the Taj Mahal. Built between 1632 and 1658 as a mausoleum for the beloved Empress Mumtaz Mahal, the gleaming marble edifice is best viewed at sunrise, our guide tells us. So, 6 a.m. on day 4 finds us lined up outside the gates, entranced by the passing scene: merchants leading their elephants, vibrantly "saried" women heading to the market, and disdainful camels lumbering by with dhoti-clad riders high above our heads.
It seems a perfect beginning to the tour's highlight, and our anticipation builds as we enter the verdant gardens and get a first glimpse of the magnificent red sandstone gates that mark the entrance to the shrine itself. Located anywhere else, it would be a major attraction in its own right, but overshadowed by the Taj Mahal, it hunkers in resignation, just a frame for the monument itself.
The Emperor, Shah Jahan, lost his wife as she was giving birth to their 14th child. Her dying wish was that he build her a beautiful tomb as a testament to their undying love. As we stand in awe looking down the avenue of trees and pools that lead to his fulfilled promise, I marvel at a love that great.
I can understand now why it is so important to see the attraction at sunrise; the sky is tinting everything rose, and the monument seems to be absorbing it. Lime parakeets flit in and out of the buildings and, to complete the film, hornbills begin to chatter in the trees.
We move, trance-like, toward our goal and are grateful that we have ample time to admire the semi-precious stones inlaid in the marble in beautiful gleaming patterns of red, blue, green, and amber, and to marvel at the precision of the entire site. Two seemingly identical Muslim temples frame the jewel, but only one is a temple. The other is built simply with symmetry in mind. We wander behind the Taj, to admire the peaceful outlook and remark on how the Yamuna River and the park on its other shore make such perfect backdrops. So much peace in such a clamoring country!
An hour later, as we leave, dripping sweat and reverence, we notice the blush has gone from the Taj. It's now a brilliant gleaming white, sparkling as if it has just been laundered.
Now, we are taken to a famous historical Sikh pilgrimage place, the temple, Guru Ka Taal. Our guide explains that the Sikhs believe in feeding everyone free regardless of caste or religion and takes us into a kitchen where three boys and a number of men are baking japatis. Beside them, on a long low table, sit two dozen women mixing and rolling the dough. Everyone is a volunteer.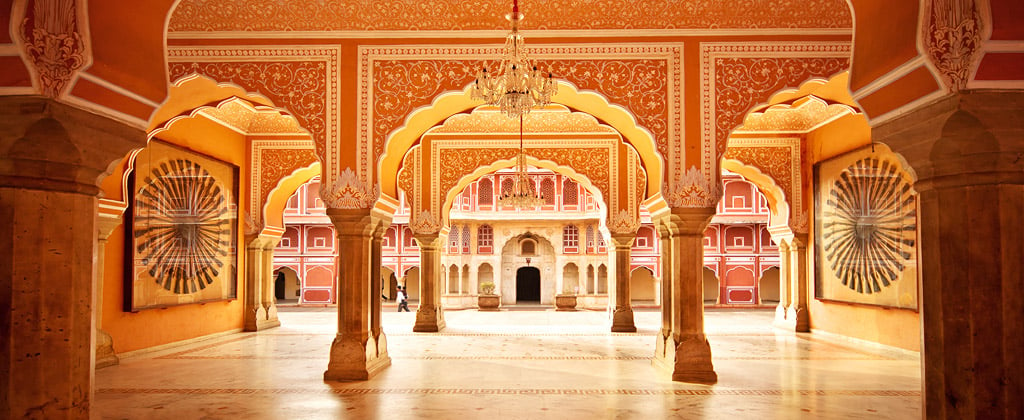 Days 5 and 6 take us to Rajasthan's capital, the pink city of Jaipur, so named because of its red sandstone buildings. Called the Paris of India, it woos us with camels, iconic snake charmers, elephant drivers, a palace in the middle of a lake, the 1,000-year-old hilltop Amber Fort that looms above the town, a vibrant bazaar that resonates with an ancient beat, and intricate facades, temples, and palaces that hint of a time of unimaginable wealth and power.
And all of this in a week.