The following is a guest post from Dr. Steven Derfler, who just returned from Israel with a group.
---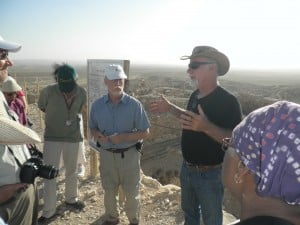 Traveling to the ancient land of David and Solomon, Sarah and Deborah, the ministry of Jesus, and 3rd holiest place in Islam, is to be profoundly touched by history. The art and archaeology of this biblical world "puts flesh onto the bones" of the literature and religion that shapes the 3 great western religious traditions.
As an archaeology professor who has been a part of many excavations in Israel, and served as the American director of 2 projects, I try to bring the passion of rediscovery to those who travel with me. As a result, in-depth explanation on an archaeology and history-oriented study tour brings the biblical world to life again. Then, when you add in the opportunity to visit the sites with fellow archaeologists involved in the process itself gives a first-hand perspective not often found in study tours.
This was lure of our program this past October. Perhaps the signature site for archaeology and history of ancient Israel is the mountain-top monolith of Masada; overlooking the Dead Sea. The fortress citadel of King Herod over 2000 years ago, this site later went on to become the rallying point of Jewish identity and self-preservation — as defenders were the last to hold out against Rome in 73 CE. Having worked on the mountain myself, one of my closest friends in Israel is the Director of Masada National Park, Eitan Campbell. He would greet the group personally, and offer his own eloquent description of the fortress initially excavated by Yigal Yadin in the mid-60s. It has been the focus of his entire adult life in Israel, and his love for the site came through in his discussion — a fact not lost on the group.
Other excavated sites played equal roles in telling the history of Ancient Israel. At the Judean fortress of Arad, in the Eastern Negev, friend and colleague Yehuda Govrin, the most recent Israeli archaeologist to direct excavation there, would also meet the group and explain how new theories based on archaeology allow for further interpretation of biblical narrative.
However, this program didn't focus on Ancient Israel alone. The modern state is a marvel of 21st Century life as well. The group would be introduced to this phenomenal nation that leads the world in so many ways — scientifically, technologically, artistically. Oved Yeheskehel, political advisor to former Prime Minister Ehud Olmert, now directs an NGO that analyzes modern Israeli politics. He would address the group in Tel Aviv and give his take on the current political climate in the state. After his discussion, many remarked that they felt that they were talking with a future prime minister (perhaps in the next decade!).
In Tiberias, along the Sea of Galilee, one of Israel's world-class musicians would offer a mini-class to the group. An Iraqi Jew, Yair Dalal would become a tireless proponent of intercultural cooperation in a search for a just and lasting peace in the region for both Israel and her Arab neighbors. His efforts would be recognized as he was asked to compose a signature piece for the 1994 Oslo Peace Accords — "Zeman es-salaam" — A Time for Peace. Since then, his work partnering Israeli and Palestinian musicians has earned him accolades throughout the world.
Finally, one experience summed up the passion that visitors have for the Holy Land of Jews, Christians, and Muslims. One of our fellow travelers was an elderly gentleman who had already visited 100 countries in his life — but never Israel. He was beset with health problems that were very serious. Despite his illnesses, his wish was to visit this holy land, a cornerstone of his faith. We accomodated him to our best ability. You could see the gleam in his eye, you could sense the deep appreciation that he had for this wonderful land, and you could feel his sense of ease being here as he slowly, at times with difficulty, walked in the footsteps of his own spirituality.
This is the miracle of Israel, both ancient and modern, that touches travelers of all walks of life.