May 1 marked the beginning of the second round of our Win the World Sweepstakes. This time, one of the three trips we're giving away is an amazing trip for two to Turkey on our 14-day Best of Turkey tour (a $4,000 value)! Today's the last day to enter, so be sure to check out our Facebook page for your chance to win!
Turkey offers the best of the Middle East and Europe, and boasts a rich and long-standing history. Whether you've traveled there before or just visited in your dreams, our Best of Turkey tour is sure to amaze.
Don't believe me? Maybe some of the pictures below will help exhibit all that Turkey has to offer.
The Sultan Ahmed Mosque, more commonly called the Blue Mosque, is one of the most popular attractions in Istanbul. The blue tiles that adorn the walls of its interior are what give the mosque its name. This sight is not to be missed when visiting Turkey's capital city.

Also located in Istanbul, Hagia Sofia was first an Orthodox basilica, then a mosque, and became a museum in 1935. It is said to be the epitome of Byzantine architecture, and many say that it inspired the design of the Blue Mosque.



Image courtesy of Istanbul.com
The Grand Bazaar in Istanbul is one of the largest and oldest covered markets in history. Shoppers can find jewelry, furniture, carpets, leather goods, clothing, and more while walking through this beautiful market. 
One of the most famous sights in Cappadocia are the huge rock formations. The people who lived there carved out houses, churches, and monasteries from the rocks, and they're a wonder to walk through.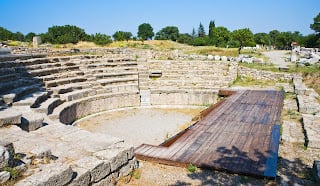 Troy is best known as the city from the
Trojan War
, around which the
Illiad by Homer
was based. Travelers will see beautiful ancient ruins, and feel like they're stepping back in time. 
Ephesus was first a Greek city, then a Roman city, and now stands in modern-day Turkey. The
Theater in Ephesus
, shown here, has seating for 25,000 people and was used for concerts, plays, religious and philosophical discussions, and gladiator and animal fights.
If you want to see more, you can … for free! Just visit
our Facebook page
to enter to win a free trip for two to Turkey. And don't forget to refer your friends for more chances to win. Good luck to all our travelers!