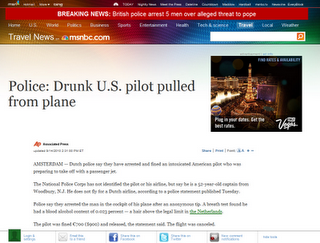 By now you've probably heard about the Delta pilot who was arrested for allegedly being drunk before takeoff. The 52-year-old pilot from Woodbury, N.J. was about to fly a plane from Amsterdam to New Jersey. But fortunately his condition was discovered thanks to an anonymous tip, and he never flew the plane.
The poor judgment of the pilot, whose name has not been released, has garnered a lot of media attention. It's also brought up many airline safety questions. And in this case, I think that Delta's airline safety system worked.
Let me explain. I'm not making excuses for this pilot or condoning his behavior. Had he flown that plane, the consequences obviously could have been catastrophic. But in the end, the anonymous tip saved the day avoiding any potential disaster.
We don't know who reported him, and any guess as to the identity of the tipster is speculation, but I will say this. In general, there's something wonderful about flight crews on international flights, which is what this Delta pilot was flying.
It's evident from every aspect of the in-flight experience that these flight crews do their jobs and do them well. I travel a lot and can attest to this personally. That's not to say that the ticket agent who checks you in is going to smile and treat you warmly, or that every flight attendant is going to go above and beyond. But mostly, I've encountered a consistently high standard of performance in the air.
The fact that someone noticed this Delta pilot wasn't in flying condition reinforces my belief about international flight crews. Someone was looking out for the safety of others and took the right actions to have the pilot removed from the flight.
While I'm sure the media will ultimately identify both the pilot and the tipster, I would risk venturing a bet that the anonymous tipster was a member of that Delta flight crew. He or she looked beyond camaraderie and personal factors to protect the passengers and the plane.
The flying public shouldn't go into a frenzy or fear flying because of this incident. Rather, travelers can feel very confident that there are professional people who are watching to make sure air travel remains as safe as possible. And this incident exemplifies the point quite poignantly.
What do you think about the allegedly drunk pilot being arrested? Despite having been anonymously outed, do you still worry about safety and pilot competency while traveling on international flights? Leave your thoughts in a comment on this post.