A light snow fell upon the city in the early morning light as the Louis Majesty pulled into port at Barcelona on Feb. 14. Watching the snow fall as I sipped my tea in the Royal Observatory, I regretted my decision to leave my warm winter boots at home. But by the time my day's tour stepped off of our bus later that morning into Barcelona's Park Guell, I'd forgotten all about the chill in the air (well, almost).
Part of the UNESCO World Heritage Site, "Works of Antoni Gaudi," the park is an incredible peek at the world of Catalan architect Gaudi. Here, his imaginative sculptures and visions for a divine community come to life.
Originally designed to be a housing development and worked on from 1900-1914, Gaudi proved to be too far ahead of his time (and somewhat mad) for current Barcelona standards, and the community failed. But today, the park is a step back in time and into the mind of an incredible artist and visionary architect. Rife with mystic symbolism and incredible mosaics, Park Guell is not only an awe-inspiring display of architecture, but it is a sanctuary from a busy city.
On a sunny day, it would be easy to lose yourself for hours among the tilting pillars and swirling mosaic sculptures. A sucker for color and avant-garde uses of outdoor spaces, I was absolutely mesmerized.
From Park Guell, our tour bus took us to Gaudi's masterpiece, la Sagrada Familia. It's not often in my life that I have been overwhelmed by the works of man, but this church took my breath away.
Besides the sheer enormity, the intricacy of the stonework was absolutely incredible. As we circled the outside of the church, our guide flexed his Gaudi knowledge as he pointed out detail after detail and entire Biblical stories unfolded before our eyes. I felt like I could have stared at a single turret all afternoon, and new elements would still slowly reveal themselves.
As the day wore on, we visited Barcelona's historical district, which was actually my favorite part of the day. There is little else I enjoyed more while in Europe than winding my way down narrow city streets and taking in all the unique sites, sounds, and smells.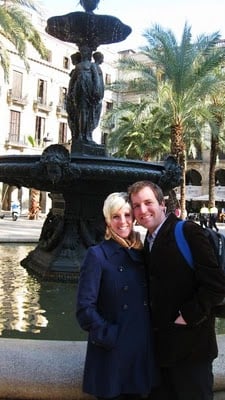 NOTHING BETTER: In Barcelona together
When we parted ways with our guide — whose passion for Barcelona shone through his incredible tour — my husband and I stopped for some tapas y cervezas in a sunny piazza with some fellow travelers.
There is perhaps no better way to understand a city than to enjoy a little food and drink in a crowded spot. The food was warm and delicious and the beers were crisp and refreshing. Is there anything better than that?
I did a little shopping on La Rambla on our way back to the boat, where, as one of our travel companions warned us, "they'll steal your underwear without ever touching your pants," so don't be afraid to haggle! A beautiful urban space in a bustling city, it was easy to imagine the splendor of La Rambla in the spring and summer when the trees are in bloom.
When my husband and I finally arrived back on ship, the Louis Majesty housekeeping crew (constantly sticklers for detail) had decorated our cabin for our first Valentine's Day as a married couple. And after a day like that, I don't know how we'll ever beat it.